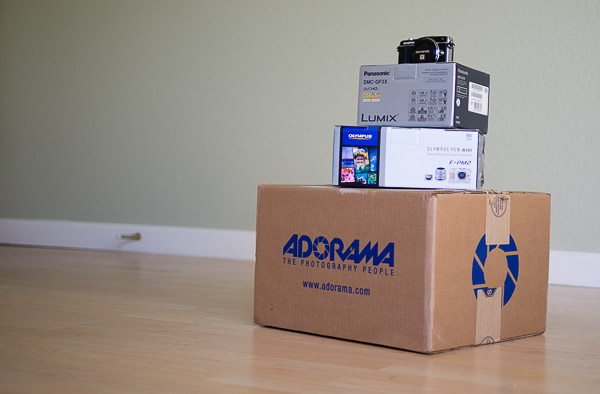 With 33 different micro 4/3 cameras bodies to choose from today (13 current, 20 discontinued), the question of 'what to buy' comes up frequently. Here is a list of my personal recommendations.
Best on a budget
Panasonic G5. For $250 (secondhand – new ones are no longer available), you get a camera with a good sensor, a high-resolution EVF and good controls. The G5 can also do excellent video, has an electronic shutter for silent shooting and has a fully articulating LCD. The sensor is slightly behind the state-of-the-art, and the camera does not have a stabilization system (so only lenses with OIS will be stabilized), but those are small complaints for a camera that now costs less than a decent quality compact.
Best small camera
Olympus E-PM2. The E-PM2 offers the same image quality as its larger sibling, the Olympus E-M1 and E-M10, but in a camera scarcely larger than a point-and-shoot. The camera can autofocus quickly and produces JPEGs that are generally regarded as among the best around. It even has a stabilization system, though not a particularly effective one and should you tire of using the LCD, you can always add on any of Olympus's 3 external EVFs via the hotshoe. It's also a bargain at this stage, going for $400 with both kit lenses (the 14-42/3.5-5.6 II R and the 40-150/4.0-5.6 R).
Best general-purpose
Olympus E-M10. The E-M10 is basically a slightly shrunken E-M5 with a bunch of small upgrades and a significant price drop. As such, all the good things about the E-M5 still apply – it's stylish, small, solid, has great image quality, has a tremendous stabilization system, contains a good EVF, and is ridiculously customizable. The E-M10 also adds WiFi, focus peaking and automatic correction of lateral CA, if those are things you care about. Pretty much the only things it doesn't excel at are high-end video (casual video is fine), tracking action (continuous autofocus is limited) and shooting in the rain (unlike the E-M5, it's not weather-sealed).
Panasonic GX7. For the longest time, m4/3 users have been asking for a camera that has both the svelte profile of a rangefinder, and a built-in EVF. The GX7 is that camera. The fact that it also has a good sensor, a silent shutter option, a built-in flash, image stabilization, good ergonomics, great video output and that it can focus remarkably quickly in the dark merely makes it more attractive. No, the stabilization isn't as good the E-M10's, but the video quality is a lot better. Prices have also settled significantly since it first came out.
Honorable mentions
Panasonic GM1. By far the smallest and cutest m4/3 kit is the recently released GM1 with its 12-32 kit lens. The combination is tiny, smaller than many point-and-shoot cameras, while still producing images as good as any of the other m4/3 cameras. You do however pay for that privilege, both in terms of cost (the kit is $750), and in terms of limited controls (no space for buttons, or a hotshoe for an optional EVF).
Panasonic GH4. The GH-series is Panasonic's flagship line, and the newest entrant, the GH4, continues to raise the bar. The body is virtually the same as the GH3's, robust, ergonomic, weathers-sealed, with a grip. But on the inside, there are plenty of changes. The GH4 is one of a very few cameras capable of shooting 4K video natively, without needing any special dongles. It is also one of the few mirrorless cameras with reasonably effective tracking autofocus (the only m4/3 that comes close is the E-M1). It's not cheap, but if video and action photography are your thing, there's not a better a choice.
Below is a full listing of all model, sorted in reverse-chronological order, with my comments and links to their reviews/previews on DPReview.
Style: m4/3 cameras come in basically 2 designs – SLR-like and Rangefinder (RF)-like.
Sensor: 12MP sensors are all from Panasonic, and perform closely. 16MP ones are from Panasonic or Sony, and perform closely. Between the two, there's a substantial gap in terms of dynamic range and noise.
Prices: prices are listed in terms of best-available with warranty, meaning cameras are either new, or refurbished by the manufacturer. Discontinued models are mostly available only secondhand.
Ratings: cameras are rated on abilities (featureas) and value (price), from 1 to 5 stars.
Reviews: links are to reviews from DPReview, a respected 3rd party reviewer. By now, some are a little dated.
Model
(Current)

Release Date
Style
Sensor
Price
Rating 1-5
Comments

Panasonic GH4

2/2014
SLR
16MP
$1700
****
Externally, not much has changed from the GH3. Internals are a different story. The sensor has some improvement for stills (better C-AF) but the main change is support for a plethora of high-bitrate video modes including 4K – a first for m4/3. The price isn't low, but for class-leading video and competitive stills quality, the GH4 has no peer.

Olympus E-M10

1/2014
SLR
16MP
$700
****
An E-M5 with a variety nice touches (WiFi, focus peaking) in a smaller and less expensive body. No major changes in image or video quality over the other 16MP Olympuses though.

Panasonic GM1

10/2013
RF
16MP
$750 (kit)
****
Possibly the first camera that one could call 'too small', the GM1 kit is the most pocketable m4/3 by a considerable amount (especially with a zoom). Image quality is just as good as its larger siblings. Only the controls really suffer (there's just nowhere to put them).

Olympus E-M1

9/2013
SLR
16MP
$1400
***
Smaller than the GH3 but larger than the E-M5, the E-M1 was Olympus's take on 'professional' m4/3. The camera improved the E-M5's ergonomics and EVF and incorporated the various enhancements of the E-P5 (1/8000s shutter, WiFi, focus peaking). It was also the first (and only) m4/3 with phase detect autofocus, allowing it to focus well with classic 4/3 lenses, and until the GH3 the only one to have competent tracking AF. On the downside, neither stills nor video quality substantively improved compared to the other 16MP Olympus bodies.

Panasonic GX7

8/2013
RF
16MP
$1100 (kit)
****
While nominally an upgrade to the GX1, the GX7 included several firsts – a built-in EVF in a RF-style body and sensor-based stabilization in a Panasonic camera. The tilting LCD was also a nice addition and the sensor provided more or less the same quality as the top-end GH3, although with fewer video options.

Olympus E-P5

5/2013
RF
16MP
$1000
***
The overdue update to the E-P5 made significant ergonomic changes and incorporated the E-M5's internals, while also adding WiFi, focus peaking and a new shutter with a max speed of 1/8000s. A high price and Olympus's persistent refusal to integrate an EVF (especially in light of the GX7) have limited its success.

Olympus E-PL6

5/2013
RF
16MP
 
***
Olympus's Japan-only update to the E-PL5 adds WiFi and makes some software tweaks.

Panasonic GF6

4/2013
RF
16MP
$450 (kit)
***
Finally bringing a 16MP sensor to Panasonic's entire m4/3 lineup, the GF6 also upgraded the LCD to a tilting one, added WiFi, sped up basic operations and improved video quality. It remains a solid compact m4/3 option.

Panasonic G6

4/2013
SLR
16MP
$650 (kit)
***
Externally, the G6 remained quite close to the G5, but with numerous internal tweaks. A better EVF, WiFi, better video and faster shooting (both continuous and fixed) highlight, but the sensor was also updated.

Panasonic GH3

9/2012
SLR
16MP
$1100
***
Improving upon the GH2 in virtually every respect, the GH3 produced leading quality output – both stills and 1080p video. While it bulked up substantially vs. the GH2, it still remained a small camera compared to mid-range or pro DSLRs. Weather-sealing was a particularly notable addition.

Olympus E-PM2

9/2012
RF
16MP
$400 (kit)
****
The same quality as the E-M5, but in a small affordable body. While a larger LCD, improved video and a metal body would have been nice, the price (for a 2 lens kit) makes it hard to complain.

Olympus E-PL5

9/2012
RF
16MP
$400
***
An E-PM2 with a metal body, a few more buttons and a tilting screen, but a significantly higher price, once you factor in lenses.

Olympus E-M5

2/2012
SLR
16MP
$1000
***
No m4/3 body has garnered more attention for its combination of size, quality and looks. The E-M5 introduced a great Sony 16MP sensor, and combined it with a built-in EVF and a retro-looking weather-sealed body. It is missing some of the perks of the newer models, but for still image quality, no m4/3 does better, even after 2 years. The downside to getting a new one today is that the list price hasn't changed in that time either.
 
 
 
 
 
 
 

Model
(Discon-
tinued)


 
 
 
 
 
No longer in production

Panasonic G5

8/2012
SLR
16MP
 
****
Responding to criticism of the G3, Panasonic added back the handgrip and buttons that it had removed, gave the camera slight sensor upgrade and improved the video to 1080p60. For $250 or so secondhand, you really give up very little over the newer models.

Panasonic GF5

4/2012
RF
12MP
 
**
The fourth update on the original GF1 added little of note.

Panasonic GX1

11/2011
RF
16MP
 
***
Well-built, affordable and offering image quality just slightly behind newer more expensive models, the GX1 proved the first true successor to the GF1 as an enthusiast-oriented camera in a compact body. It is still a solid choice for an RF-style 16MP m4/3 camera.

Olympus E-PL3

8/2011
RF
12MP
 
**
The E-PL3 and E-PM1 really had two meaningful differences – the E-PL3's LCD could tilt, and it had a mode dial. Performancewise, they were identical.

Olympus E-PM1

8/2011
RF
12MP
 
**
The E-PM1 fit its moniker of 'Pen Mini' by having pretty much all the features of the E-P3, in a very small (though still metal) body. Controls were minimal and there's no grip to speak of, but the camera was quite popular with those looking for the smallest possible body.

Olympus E-P3

6/2011
RF
12MP
 
**
It's too bad Olympus didn't start with the E-P3 in 2009 as it was everything the E-P1 should have been with good autofocus performance, a good LCD, and good controls. Even the stabilization improved. Unfortunately, they used the same sensor as the E-P1, which by 2011 was definitely not cutting edge.

Panasonic GF3

6/2011
RF
12MP
 
**
Panasonic managed to shrink the GF2 further with the GF3, although they did at least improve the operating speed.

Panasonic G3

5/2011
SLR
16MP
 
***
The G3's 16MP sensor was a notable improvement on the G2. Panasonic's decision to lose the grip and some of the controls however was less received, thus the G3 remains something of a bargain on the secondhand market.

Olympus E-PL2

1/2011
RF
12MP
 
**
Olympus finally took a meaningfulstep forward with the E-PL2, adding a half-decent LCD, improving the autofocus speed and adding back some of the controls they had so ill advisedly trimmed from the E-PL1.

Olympus E-PL1s

11/2010
RF
12MP
 
*
A rare Japan-only variant of the E-PL1, the E-PL1s has all of the same problems – controls, LCD and build quality

Panasonic GF2

11/2010
RF
12MP
 
*
The GF2 largely deserved its reputation as a dumbed down GF1 at a modestly lower price.

Panasonic GH2

9/2010
SLR
16MP
 
***
Even after more than 3 years, the GH2 still offers an unusual combination of high image and video quality, a solid body with a full grip, and a multi-aspect sensor, and can be had for remarkably little.

Panasonic G10

3/2010
SLR
12MP
 
*
Panasonic's first budget model, the G10 was the G2 but without the touchscreen and with a very low resolution EVF.

Panasonic G2

3/2010
SLR
12MP
 
**
Replacing the G1, the G2 added a touchscreen and video to the workhorse of Panasonic's line.

Olympus E-PL1

2/2010
RF
12MP
 
*
Olympus's first effort at a budget m4/3 camera was essentially an E-P2 in a plastic body with fewer controls. It wasn't an appealing combination even then, when $500 was a bargain for m4/3 body.

Olympus E-P2

11/2009
RF
12MP
 
*
Correcting the E-P1's biggest omission with an optional EVF made the E-P2 vastly more useful, but slow autofocus and unergonomic controls still limited it.

Panasonic GF1

8/2009
RF
12MP
 
**
While not as stylish as the E-P1, the GF1 had none of that camera's major flaws either. Solid build and good controls mean folks are still using them today.

Olympus E-P1

7/2009
RF
12MP
 
*
The first Olympus m4/3 offered good looks in the form of a rangefinder-like body and decent (for the time) image quality, but was crippled by poor autofocus and a terrible LCD.

Panasonic GH1

4/2009
SLR
12MP
 
**
Adding video and a multiaspect sensor to the G1 made it for a long time the obvious choice for high quality videography in a small package.

Panasonic G1

9/2008
SLR
12MP
 
**
The first m4/3 camera and the basic blueprint for Panasonic's G-series ever since. It had the looks of a small DSLR, but an electronic viewfinder and a fully articulating LCD screen. No video though.
Last updated: May 20, 2014