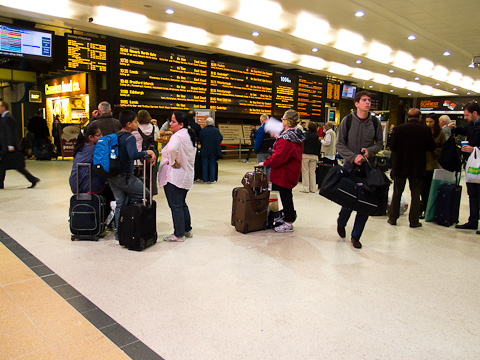 Wednesday June 15 and Thursday June 16 – Getting to Kirkby Stephen
As with many trips I've been on, this trip started out late and in a bit of a hurry. Last minute errands lead to last minute packing, so Sassan and I didn't leave for the airport until less than 2 hours before our flight to London was to depart. We figured SFO wouldn't be too crowded at 2PM on a weekday afternoon. We were wrong.
After several false starts that had us waiting in line at the wrong terminal, we finally found the correct luggage check-in counter, and were greeted with a line of approximately 500 people also waiting to check in their luggage. Clearly simply waiting was not going to work, so I found the nearest airline representative and told him our flight was going to leave in 20 minutes. He wasn't especially sympathetic, but after he had successfully made his point about how we should have known better, should have gone to the right terminal and so forth, he did check in our bags for us. We rushed to the security line, got through reasonably quickly, and ran through the terminal to the gate just as the PA system was announcing last call. We were the last two people onto the plane.
The flight itself was comparatively relaxed. A few hours in, the clouds below cleared up and we were greeted with a nice view of the Great Plains. Closer inspection showed that a number of rivers had expanded beyond their customary boundaries, engulfing fields, staining the landscape a muddy brown, and submerging major roads in impressive fashion. I napped fitfully over the Atlantic, watched a singularly stupid movie, and finally awoke to see the southern portion of Ireland pass below. We arrived at London's Heathrow airport around 7AM local time.
We found Bob without too much trouble at the coffee shop in the neighboring terminal. Heathrow was big enough that it required a 10 minute monorail ride just to get from one terminal to another. From Heathrow we took the London Underground (the 'tube') across town to Kings Cross Station. It took nearly an hour to pass through the 20+ stops in between. Kings Cross proved a busy but surprisingly small train station that bore little resemblance to the version in the Harry Potter movies (later we learned those were filmed at the neighboring St. Pancras station). It was raining outside and we had a collection of heavy luggage, so we waited in the train station until just after noon for our train.
From Kings Cross, we took the train to Leeds. It was a fairly fast train and in a little more than an hour we were deposited at the station there. In between, we were treated to various bits of England's towns and countryside. It was raining fairly insistently when we left London, but the weather improved as we headed north. At Leeds, we transferred to a much smaller train. Soon we were passing through gently rolling hills, treated to beautiful views as we passed from one little town to another. At one point, the ticket collector, noticing our cameras, told us of a scenic viaduct shortly ahead. He was right – it was quite a sight.
At length we arrived in Kirkby Stephen, our destination for the night. Our first discovery was that the station and town were about a mile apart. So we sat in the café at the lovingly restored station (a 'heritage' station, part of the corresponding 'heritage' railway line) and drank tea while awaiting the bus into town. The bus dropped us at our hotel, a pleasant establishment called The Kings Arms which also featured a restaurant and bar.
After a brief rest, we set out to explore the town on foot. Chris and the rest of the group hadn't arrived yet, so we made it down the main road as far as the brewery before turning back. Imaging our surprise when halfway back to the hotel a car pulled up alongside us with none other than Chris and Bridget inside. We greeted them and Michelle and Mark (who had by then also arrived) at their B&B and after some deliberation elected to eat dinner at The Kings Arms (it was recommended in Chris's book). The 7 of us enjoyed a good meal at the restaurant. We made a plan for the following morning as half the group was going to the start of the route with the luggage bus while Bob, Sassan and I were taking the train. Then, at long last, we succumbed to jet lag and headed for bed. It was past 10PM GMT and the sun had still not yet set.