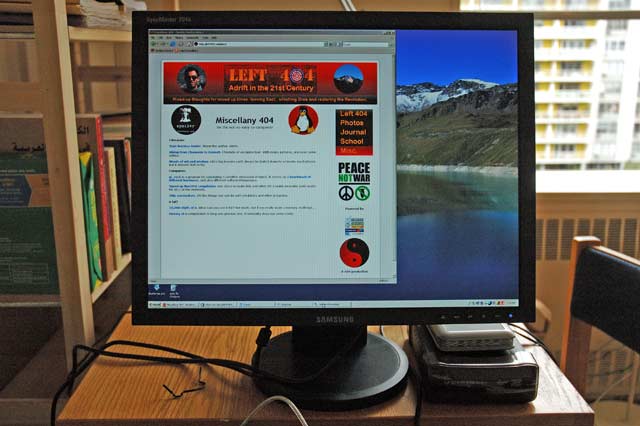 So the highlight of the day was a quick visit to Best Buy, happily only a few blocks away, to finalize on a new monitor. The idea was to finally stop squinting at the laptop's screen, which for all it's perks, has a native resolution of 1600×1200 on a 15″ screen. Wonderful for details, unreadable for fonts.
It's become quite a challenge to avoid getting these 'widescreen' monitors with the 16:9 aspect ratio, or in other words, 20″ LCDs offering 1680×1050 resolution. Since height, not width, is usually what bugs me when viewing documents/webpages/photos, this isn't a trade-off I wanted.
So with a little advice from a friend, plus the surprising discovery that Best Buy can actually have lower prices than Newegg (though not often), I am now the proud owner of a Samsung 204B 20.1″ LCD monitor. Aside from a somewhat limited vertical viewing angle, it looks pretty good. My desktop background has reverted to IMG_3104.jpg, the highly saturated Swiss photo (Lac de Moiry) that I used to use before deciding the computer wasn't doing it justice.
Otherwise, it was a quiet day, mostly spent ensconced at my desk reading. I even managed some good old-fashioned paper correspondance, though of course the post office was closed by the time I got there. I also picked up some long neglected groceries, though after looking at the bill, my first thought is that I need to stop by Trader Joe's more often. $27 just doesn't go as far as it ought.
The document I got from the Grad Office on taxes might as well be written in Greek for all the help it is. Whoever does the actual writing at the IRS clearly was unable to get a job doing technical writing in the real world. In terms of poor organization, lousy sentence construction and general abstruseness, the paper is a masterpiece. It is however just about useless for actual reference.
Meanwhile, the Despotate of Morea has fallen to the Ottoman Turks, and I have massive quantities of French to do tomorrow.