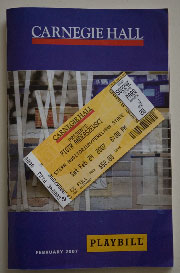 It was cold this morning. And I do not mean cold as in 30-degrees-cold, I mean cold as in temperature-in-the-high-teens-with-gusts-of-wind cold. So my 15 block trip to Trader Joe's reminded me what it's like not to have ears. Yesterday's haircut may not have helped either. Nearly as disturbing was the fact that when I got to Trader Joe's around 15 minutes after opening, there was already a line half way around the store. Somehow, I just can't win.
My second task of the day was to get a new phone. Yes, I know I only had the last one about 8 months. But I've decided to replace my cable internet with a 'tethered' cell-phone with data access, since the price isn't too different (except for the phone itself). The phone in question, a Motorola RAZR V3xx is better in almost every way than the old one. Sound quality is better, startup time is better and of course, data access speed is 3G (so up to 1.8mbs, if Cingular ever gets their network up to spec). Only the size, and the ringtone options are not as good (I wanted something low-key and generic). I did in fact cancel the cable service after using the phone as a modem, with the help of a surprisingly pricey piece of software. So now wherever I have cell service, I have internet access.
In the evening, my friend E- came up from Philadelphia. Originally, it was to have been me, E-, Q- and another friend from Stanford all meeting up in NYC, but the last two bailed (Q- had an important meeting regarding funding for his research, the other friend was incredibly busy). So it was just me and E-, and tickets to a piano concert at Carnegie Hall by one Piotr Anderszewski. The music was great (Six Bagatelles by Beethoven, Metopy by a composer I'd not heard of previously called Szymanoswki, intermission, and then '33 Variations on a Theme by Diabelli' by Beethoven again), and it was fun to see Carnegie Hall again (hadn't been there for quite a while). Afterwards, though, we had a dickens of a time finding a restaurant for dinner, finally settling for a Mexican place with incredibly annoying music (but also the virtue of being open after 11PM) near 59 St. and 7th Ave.