Longer day than I bargained for.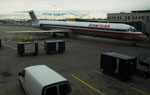 Up early to finish packing.1PM flight from JFK, so left Hartsdale at 10AM. Needn't have – security lines were short and quick (and missed a pocket-knife accidently left in my carry-on). Still annoyed by the new rules regarding camera/computer batteries.
Flight to Salt Lake City yielded interesting views of NYC and SLC but little else. Dozed a lot.
SLC airport was nice, large, mostly empty. And I spent 5 hours in it, due to unexplained delays for the SLC-SFO leg of the flight. Discovered a California Pizza Kitchen (rip-off, but needed dinner). For lack of anything better to do, watched the Pistons knock the stuffing out of the Spurs on TV. Not a huge basketball fan, but 'Rip' Hamilton and Rasheed Wallace provided enough excitement to outweigh the annoyance factor of the commercials.
SLC-SFO flight finally left 10:30PM MST. Had a chat with a women from Ogden going to SF for a funeral. She seemed oddly chipper about it.
Touched down at midnight, PST. Quick drive back to dear old foggy Half Moon Bay, with only a grumpy cop (who had rather ambiguously half-blocked the road) for interruption.
Good to be (after 18 hours in transit) home.