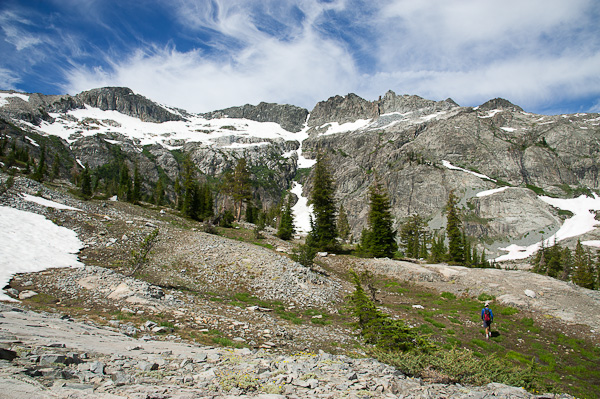 It's been a busy few days.
Thursday at 5:30PM I took my final exam for my summer algorithms course.  Then I went back to my grandparents' place and packed.  I went to bed around midnight.
Friday I was up at 4:30AM.  I finished packing, ate breakfast, and caught the 6:00AM bus to the train station.  The train brought me in to Grand Central around 7:30AM.  From there I took another bus to Newark airport.
At 11:30AM (a bit late) my flight left Newark.  Less than 3 hours later we touched down in Chicago Midway, where I switched to another plane.  Then it was another 3 hour leg to Denver.  This time I didn't have to switch planes.  My final leg finished at 6PM PST at SFO.
I spent until 10PM eating dinner, getting reacquainted with home, and packing my camping gear.
At 2AM I was up again, and my dad and I set off for Devil's Postpile monument, on the east side of the Sierras.  It took a little over 5 hours to make the 240 mile drive.
At 7:30AM, we met the rest of the PCS group at the trailhead, for an attempted dayhike of Iron Mountain (elev. 11049 ft).
So yes, a busy few days.  But it's good to be back home.
(I ended up missing the peak.  Got muscle cramps about a mile short of the summit.  Still, a beautiful hike in the eastern Sierra, marred only slightly by a gross excess of mosquitos.  The next day we headed back home, stopping in eastern Yosemite to make an afternoon hike of Mt. Gibbs).