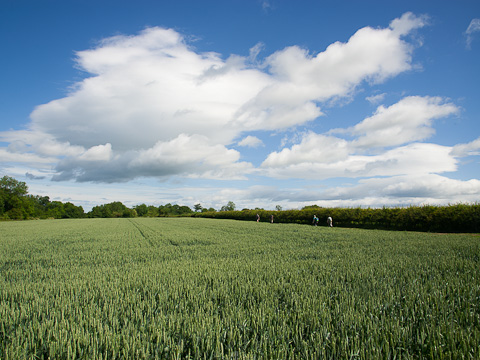 Sunday June 26 – Richmond to Oaktree Hill (16.5 miles)
The dining room at the Frenchgate Guesthouse offered us a great view of the nearby valley. We enjoyed a typically extensive breakfast. When I showed my camera, the proprietor suggested I take a photo from their balcony, but not actually go out and stand on the balcony. Apparently construction began, but was halted due to permit issues, so the view was there, but the support was not.
We left the hotel around 9AM and descended down to the riverbank. Not only was the sky free of clouds but the temperature was already quite warm. It would only get warmer as the day wore on. After an hour we reached another site of ruins. Easby Abbey was another victim of Henry VIII's war with the Catholic Church. Like Shap it was relatively well-preserved, with numerous towers and walls remaining of what had once been a major medieval center.
We crossed the river shortly past the abbey, continuing on the other bank. The trail took us along the edge of numerous barley, wheat and alfalfa fields. Agriculture rather than livestock seemed to predominate in this valley. We missed the trail near the Catterick bridge, but recovered it and crossed alongside a bona fide traffic jam. It was even hotter when we left the river near Great Langton. We stopped in a field for lunch.
After lunch the trail was much the same, passing between fields of different crops and wending its way past one farm and then another. Despite the trail being mostly flat, it was dreadfully hot and what shade we had was quite inadequate. When we wandered in to the small town of Danby Wiske at 3:30PM, everybody was keen on finding a place indoors and something cool to drink.
These things we found at the White Swan pub. As our destination did not have any place to get dinner, and as the pub was the only establishment open on Sunday afternoon, we decided to stay there and resume our walk after dinner. Mark was particularly in favor of this option, and proceeded to work his way through 4 or 5 pints before dinner was served around 7PM. Everybody had asked for extra vegetables, and for once, the kitchen delivered. We were unable to actually finish all of them, despite a valiant effort.
Around 8:30PM, Mark decided it was a good time to get going. We paid the considerable tab, repossessed our backpacks and slowly began our trudge toward Oaktree Hill. Despite the extra pints he had had with dinner, Mark led us on what proved to be the most direct route. Unfortunately, some of the trails, while well marked on the map, were heavily overgrown, so we were forced to beat our way through underbrush, cross a disintegrating bridge, and backtrack through a large barley field before we found a workable way through. Still, we got to enjoy the sunset on the trail and arrived at Lovesome Hill farm, none the worse for the wear.
Our farm accommodations were basic but sufficient. The main problem was simply the heat. We discovered that among our fellow guests was a group of Canadians touring the English countryside. They mentioned a 2000+ mile trail following old Canadian rail lines. I promised myself I'd think at least twice before I considered any hike of more than 3 days again.