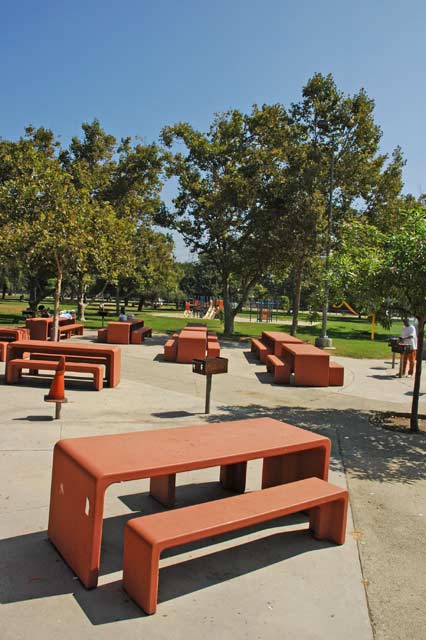 I woke up sometimes around 7AM. Everybody else got up early too though, as there were party preparations to be completed. After a quick breakfast, we loaded up the car and my uncle and I set off for Griffith Park, site of the party to be.
Finding tables to claim proved a curiously difficult exercise. Apparently most have to be reserved through the Dept. of Recreation. It took us a while to figure out which these were, so we ended up relocating 3 separate times. It turns out we had no need to be so early, because the park was largely empty.
Meanwhile, the morning fog was burning off rapidly. My cousin and aunt arrived a bit later, with the remainder of the party items, and soon, the Tomato Birthday Party was ready to go. It took a little while for everybody to find their way over, but soon the 3 tables were all set up for 3 concurrent birthday parties (my cousin and here two friends, who are twins).
The first excitement involved a war with feather dusters. Why feather dusters, I couldn't say, but all involved appeared to enjoy this pursuit, and battles raged until everybody was tired enough to get a drink and a snack.
Then came charades, although once again the feather dusters had a role, this time as props. We had some very humorous ones, including what was allegedly a person steering a flying carpet. The obvious ideas were actually quite rare.
Finally, the tomatoes that we'd picked up the previous day were put to use: projectiles to attack my uncle (who was singing a song in German). While part of the plan, the tomatoes weren't nearly as ripe as they should have been, and the aim of those throwing was sometimes a little wild. The whole event was quite messy.
The tomato cake (!) was then adorned with candles. Unfortunately, the wind made keeping them alight difficult, so it's debatable how many candles were actually blown out by my cousin. The tomato cake definitely looked its part though, and it tasted good too.
At that point I had to leave, so I missed most of the gift unwrapping, saying good-bye to my soon-to-be-10-year-old cousin. My uncle took me to the Glendale bus station, where we had a pleasant chat waiting for the somewhat delayed Bakersfield bus. Fortunately the bus had a place to store my copious luggage. On the other hand, we hit traffic immediately upon leaving, and since my connection in Bakersfield was a short one, I was more than a bit anxious about missing my train.
Once the bus left the LA area, the route was actually quite interesting. I-5 passes through some very wild areas, and we saw some interesting little communities, odd lakes, and a rather burnt out little valley that had recently been ravaged by fire.
Surprisingly, the bus did arrive on time in Bakersfield (3:15PM). I gather they plan for delays in their scheduling, which suits me fine. The train allowed me to 'check' in my baggage which was helpful. As we boarded, we were continually reminded that this would be a crowded ride.
The scenery, going north from Bakersfield wasn't very exciting. Mine was the 4th stop, and we were already 20 minutes late when we arrived there (Hanford) at 5:30PM. I wondered how late the folks going to Oakland would be. It proved irrelevant, as my father hadn't arrived at the station until a few minutes after I did.
After loading up stuff in the car, the two of proceeded east up highway 198. We stopped in Visalia for gas, but otherwise continued without stop. Just past 3 rivers, around 6:30PM, we turned onto the road to Mineral King. It's a road notable for the fact that its 25 miles seem a lot more, what with it being narrow, windy, and steep. The pavement isn't always that great either.
I was driving on this stretch, and since the road wasn't really wide enough for two cars to pass, I went slowly, keeping an eye out for traffic going the other way. There was quite a bit. The road slowly carried us up from 1,000ft to 7,500ft, passing through a number of different subclimates, as grass turned to bushes, turned to deciduous trees, and finally to conifers. Around half way up, I was tired enough to let somebody else drive. A long short road.
We entered the park around 8PM, with the sun beginning to noticably set. At the Cold Springs campground, we more or less chose our spot in the dark. As we weren't using the tent for the night, setting up camp consisted of laying out tarp, pads and sleeping bags, a pretty quick process.
Dinner was mostly odds and ends, with a tiny candle for light. After exploring the area a bit, and paying for our spot, we called it a night, around 10:30PM. Our nearest neighbors still had a roaring fire going.