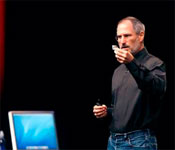 Vacations always pick up steam toward the end. Too much to do, not enough time to do it in, so things get smushed.
X- and I planned to go to the MacWorld Expo some time back. Well now X- has time (it's his birthday, so he's off work) and it's the last day of MacWorld. We met up in San Mateo, and thanks to a miracle got tickets and parking permits mere seconds before the train arrived. Arrived in a very cold and windy San Francisco just before 10AM. The Expo was in the Moscone center. For the next 3 hours, we looked at booths, quibbled about tech products, and very occasionally chatted up company reps. Compared to LinuxWorld, the event seemed bigger and much better attended, but the actual booths were more consumer-grade and hence less interesting to us. Sure, there was plenty of cool stuff, but I came away overall disappointed: nothing really new was seen or learned. About the fanciest thing we saw was the iPhone demo, and let's be serious: neither me nor X- is going to spend $500 on a cool phone.
Returning via train to San Mateo, we had lunch in a Mexican restaurant before I rushed off to Palo Alto in search of Fry's and S- to whom I entrusted my older Canon camera (it being retired since Dad now has a Nikon D80, replacing the D70 I got from him. It was slightly humiliating getting lost on the way to the alumni center (and almost losing my car in the parking lot behind the new gym at Stanford), but it really wasn't a part of campus I ever saw much of.
I had an early dinner with my parents and an old friend who was once our neighbor when I was young and we were renting a home in the hills behind Los Altos. Plenty of memories, and doings of former neighbors to catch up on. Amazing to see all the different directions people ended up going in.
From this, I drove directly back to X-'s house for the birthday. Y- and L- were already there, as were all three cats and a very large and occasionally overexcited dog. We had fun playing around with cameras (X-'s new Canon Digital Rebel is getting some use), putting ridiculous amounts of wood on the fire (that still only got the room to about 65 degrees), watching Y- frag away as cats crawled across his keyboard, and eventually eating for dinner (in my case a second one) steak as specially prepared by L-. Tomorrow morning's flight cut the festivities short for me though. Bye folks, hope to see you again before the summer!