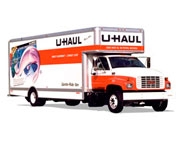 It is still disturbingly warm for a New York winter. It is not, admittedly, in the 80s as it was a few days before Thanksgiving, but it's still a good clip warmer than back in San Francisco. Meanwhile my checked luggage has conspicuously not arrived.
My thoughts were to return to my apartment ASAP, but as it was Sunday morning, breakfast couldn't be avoided. I also allowed myself to be talked into (by my grandparents) a stop at Trader Joe's to refill my refrigerator (currently in a slightly empty state), and to Home Depot to pick up lightbulbs (don't ask). The good news: I now have 6 bulbs that will supposedly last 9 years. The bad news: I hate fluorescent lights.
Getting back downtown was surprisingly easy, and after dropping my stuff in the apartment, we went out to lunch at the usual Thai restaurant on W. 4th St. I returned, quite stuffed, to discover that my new roommate had arrived. Cheers!
The rest of the day was devoted to unpacking, rearranging, and feeling slightly glum about not having all manner of things (including books from the NYU library) that were of some importance. The airline, bless their heart, did not call. My bag is still AWOL.