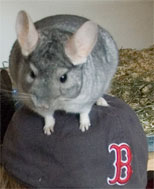 To make said 7AM bus (from Chinatown to Boston) required me getting up around 5, having a very hurried breakfast, trying to finish stuffing all my stuff into a smallish backpack without waking my roommate, and going to 6th Ave. to pick up the first C-train of the morning. A near-mishap on the ice between Grand Ave. and the bus later, and I was sitting in a mostly empty bus, with about 15 other folk. The bus route took us over the Brooklyn bridge, up the Bruckner Expressway through Brooklyn and Queens, over the Triborough bridge to the Bronx, and finally onto I-95. What would normally have been drab scenery became much more interesting with the addition of a few inches of snow.
The ride itself wasn't too exciting. Aside from a few folks chattering on cell-phones, everybody was either asleep or quasi comatose. We stopped briefly at a Roy Rogers somewhere in Connecticut for people to grab coffee and use the bathroom (too late for me, alas, I had to use the horrid one on the bus). Two chapters of Markets of Dispossession (from Anthropology) and three albums of The Clash later, we were coming up on Boston's suburbs. Slightly after 11AM, the bus deposited us in South Station.
Pausing to admire the 'no photographs in the terminal' sign, I wound up at the Boston subway (T), which proved both much cleaner, and much smaller than the New York one. Getting off in Cambridge, and triangulating via cell-phone with my friend Z- with whom I would be staying, I managed to stay upright on the icy sidewalks long enough to arrive at her place. She had unfortunately not been as lucky, having slipped and sprained her ankle the night before.
The afternoon was one of introductions. To Z-'s enormous apartment. To the 14 chinchillas, 2 guinea pigs and 1 other human (hi F-!) therein residing. To some very silly British TV comedy. To an astonishing collection of movie posters (which were in some cases more memorable than the movies themselves had been). A nice relaxed afternoon, out of the wind and cold, finished with Indian takeout and a ridiculous movie making fun of uptight born-again Christians (and Jews, and just about everybody else featured in it).