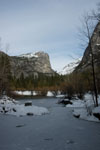 Last day in Yosemite. Nobody was in hurry to go back out in the cold, but we did make it to the Mirror Lake trailhead around 10AM. Passed a group of happily tobogganing kids on our way. Lake itself was a bit small, but the snow and bare trees gave good atmosphere. A good bit of the lake was also under snow, as I discovered with some unwary walking.
Farther along, the trail switchbacks up the south-facing slope of the valley toward North Dome. We followed this largely snow-free path for a good ways, pausing after clearing the trees for good open views of Tenaya gorge, Half Dome and some rapidly forming cloud formations.
Company during our break included a loquacious raven who posed for many photographs and could make three very distinct types of calls, and a French couple we'd seen the day before on the snowshoe walk. They had snowshoes for this walk too, but they didn't look too handy.
The return, first to the car, and then toward the Bay Area, was without mishap (though the smell of boiling brake fluid was pretty strong for a stretch of Old Priest Grade). Stopped briefly at the Yosemite Valley 'village' store where I was disappointed by the paucity of quality postcards depicting winter in Yosemite.
Celebrated the end of the trip in Half Moon Bay with pizza (what else) at It's Italia. Ah, the memories of high school days… Still is a pleasant sport for dinner.