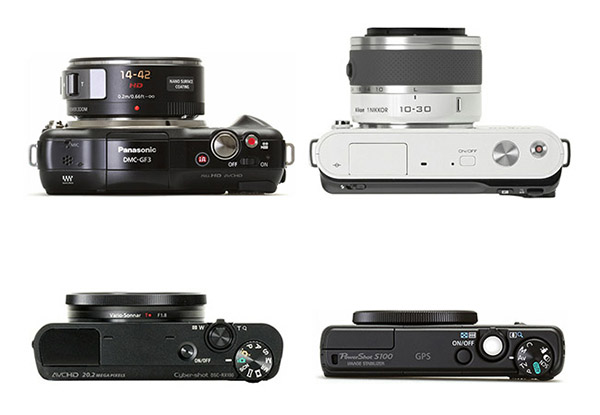 Small cameras: Panasonic GF3X, Nikon J1, Sony RX100 and Canon S100.
The digital camera industry finally seems to be slowing down a bit.  The number of manufacturers has shrunk a bit and there's no longer 2 or 3 new models announced each week.  I suspect the explosive growth of the cellphone cameras has a little something to do with that.
On the surface, the DSC RX100 that Sony announced today is just another highly-specified compact digital camera, with a price-tag to match.  The zoom range is nothing special (28-100mm equivalent).  The lens is fairly fast, but no faster than many others (f/1.8-4.9).  At $650, it's certainly no bargain breakthrough.
What makes the RX100 unusual?  The sensor.  It has a 1″ (13.2 x 8.8 mm) sensor – the same size as the one Nikon uses in its mirrorless interchangeable lens cameras (the Nikon 1).  It's more than twice the size of the one in leading compact cameras, and closer to four times the area of the one in more typical compacts.  The image quality has yet to be reviewed (it won't ship until July), but as sensor size is a defining aspect of image quality (larger sensors capture more light, which makes for better quality images), it would be very surprising if the Sony is not significantly ahead of all the other compacts.
Granted, there have always been digital cameras with larger sensors.  But none anywhere near as small as the RX100.  When I bought the Olympus XZ-1 a little over a year ago, it had the largest sensor in the smallest body with a fast lens.  In short it was the best of the breed, and yet this new camera has a sensor twice as big, and a comparable lens, and a slightly smaller body.  Compared to my earlier digital compact, the RX100 is positively tiny.  The Canon Powershot G5 that I began my digital photography with in 2005 had an even smaller sensor than the XZ-1, in a body more than twice as thick.  The lens was also more restrictive.
In short, today's small cameras are offering performance that larger cameras only a few years ago could only dream of.  No doubt there will be a limit to how far these advances go – the laws of physics and particularly optics are quite inflexible.  But it's still pretty amazing the progress that has happened in a few short years.
Meanwhile, there should be plenty of reviews of the RX100 in the next few weeks.  Judging by current developments, digital cameras aren't done improving just yet.