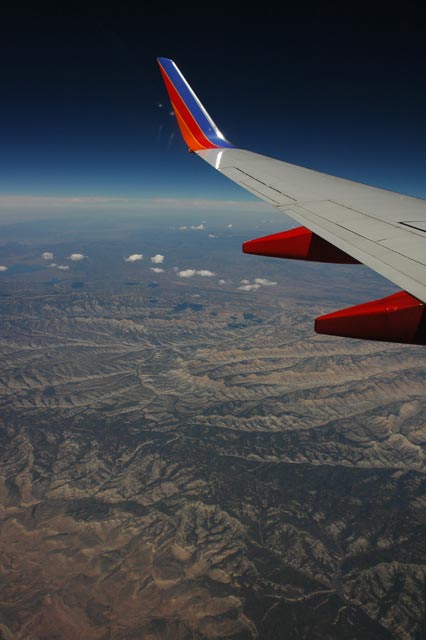 So I moved across country today. Well, sort of. At least for the next 2 years.
Got up around 6:30AM, and put the last touches on my packing. We wound up leaving the house around a quarter past 7. Weather was nice, but a few high clouds overhead. Traffic going to Cupertino was surprisingly decent for rush hour.
We arrived at the parking by my dad's office just about the time that taxi cab did, although he was in slightly bad humor, as the buildings had apparently been renumbered. Whatever. Aside from a near wrong turn, we made it to the airport in San Jose in good order. Taking all 7 of our packages out took a bit of time, but we were right near curbside check-in.
The problem with curbside check-in was that it was pretty popular. It took a good while to make it through the line. When we did, we discovered one of my bags was overweight. So we had to make some emergency rearrangements, plus sign a waiver disclaiming damages if the printer (one of the pieces of baggage) were to come out the worse for the wear. Fine.
The security line was easy enough, but it was still a pain having to de-metallize, and take out the laptop. The plane began boarding around half an hour later.
As always with Southwest, there were no assigned seats. We wound up with an entire row (the plane was a 737, so this meant 3 seats) to ourselves. We were right behind the wing, and the windows was amazingly clear, so throughout the flight, I was taking through-the-window photos.
The balance of the flight was actually spent on two things: admiring the scenery (when it was visible) and trying to complete a game of Sudoku. I'd never played before, so the game, which came on the box with our 'snack' in it, took quite a while, between the two of us. The worst part is where you make a mistake, and have to go back to square-one to start again. As for the scenery, we definitely had some memorable scenes, including bits of the San Francisco bay, Sacramento River Delta, Sierra Nevada Mountains, Great Basin, Rocky Mountains and what I presume was Kansas. Quite a bit of variety.
It took about four hours to arrive at Chicago-Midway, the local and regional airport (as opposed to O'Hare) with a distinctly suburban feel. We had an unexciting 2 hour wait, during which our connecting flight was alternately delayed, and moved back onto schedule.
Our next plane was an ATA 737 (first time flying with them), and we had seats right in front of the jet. The window wasn't quite so clean, but I managed a few more pictures. The flight was only about 2 hours to New York, and because of heavy clouds and the sunset, we saw very little until we were basically on the runway.
My grandparents were as usual waiting when we arrived. However, my cousin had arrived at a different terminal. So we determined to go and pick him up while my dad waited for the baggage. Clever idea, but hard in practice. LaGuardia had miserable traffic, coupled with poorly-marked directions to the other terminal, and it took a good hour to get to the other terminal. Still, we did find my cousin (we were trying to locate each other via cell-phone when a helpful person heard us both at the same time, no more than 20 feet away, and pointed this out. Then getting back to the other terminal took a bit of time. The final complication was that there was noticably more baggage than trunk-space, and so accomodations had to be made. The drive back took only about an hour, so we finally arrived at my grandparent's place in Westchester somewhere in the vicinity of 11PM. This meant that when dinner and other things were all said and done, it was past 1AM, or 10PM PST. No troubles with jet lag in this case…