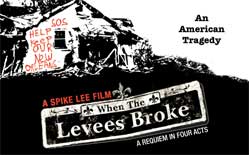 Interestingly enough, I couldn't find any classes in my department offered on Fridays. Which makes today the end of the first week of school here. Interesting.
Two language classes in the morning left me feeling a little bit overdone in the general area. I try to think of some word in one language, and of course I can only remember it in the other. Weird.
In the afternoon, I tried out an anthropology course. After the usual round of names and academic areas of interest, the professor showed us a one hour clip from Spike Lee's documentary on Hurricane Katrina, "When the Levees Broke."
The movie certainly had its heavy moments, and its light ones (when a guy goes up to Dick Cheney and tells him, 'Go F Yourself', twice). But it also carried some peculiar themes as well: people asking how such a thing could happen in America, people identifying with refugees in other countries, and people questioning what their citizenship now means.
Unfortunately, I couldn't make it to the last class I was going to try because this one went over a bit. So back to the old apartment for some rice and veggies. Going to have to figure out a way to vary the diet a bit.
Since I don't have classes tomorrow, I stayed up watching "Inside Man" again. Spike Lee is quite the director.