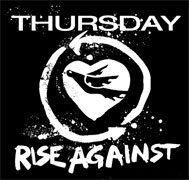 So I finally came to a decision on textbooks. Originally, I figured I could check out or photocopy the ones I needed. Today is an object lesson on why this doesn't work. For next Tuesday, I need to get ahold of a chapter of Foucault's "History of Sexuality Volume 1." According to our wonderful online catalog, the New School Library carries this book. In English. Good. Except for when I go, at length, to said library, the only copy they have is in French. Good for my French. Bad for my plan. Meanwhile, another book ostensibly available in our library simple isn't present in the stacks. Whether or not it is lost or misplaced hardly seems significant. So I spent a lovely time tracking down each book online, and buying it.
Grandma came down for the physics colloquium, so we ate out. The usual Thai place. I'm reasonably unused to restaurant food, so when I eat out, I don't get hungry for a while. Two meals in place of one. Handy.
Oh, and for anyone who'd be interested in running OS X under OS X in VMWare Fusion, for the record, it can be done. It's likely illegal, incredibly slow and not very useful, but it does work, if only barely.
And now I'll have another go at tracking down M. Foucault.