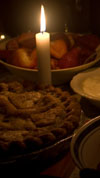 In lieu of Christmas, we usually gather together to celebrate and exchange gifts on New Years'. Postponed until tonight this year, since I was in New York. Also, I turn 24 next week. Returning to New York on Sunday though, so today served for both.
So all the folks (well, the five of us – mom, dad, cousin, visiting uncle and I) are here tonight. The fire is burning. The (premature) cake with it's 24 candles is out. Outside, it's clear and the stars shimmer brightly. Times are good.
Perhaps time to give some thought to astrophotography? Nah. Just enjoy the moment.