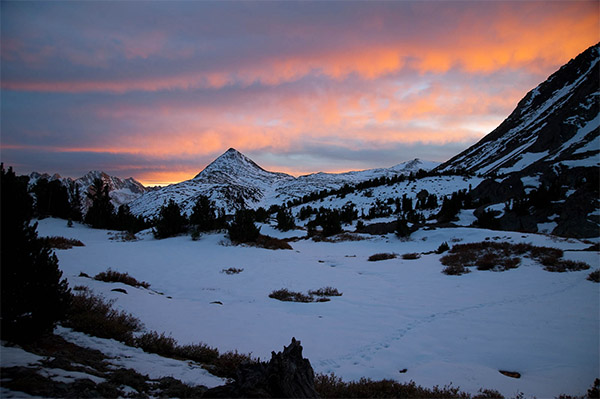 In late October, my dad and I went with a PCS group to attempt Virginia Peak, in northeastern Yosemite. Early snow prevented us from reaching the peak, but we enjoyed a fun early winter outing in an area I'd not previously seen.
Summary
Virginia Peak PCS Trip: 24 October-25 October 2009
Day 1: Green Lake trail from the trailhead, then a use trail over Virginia Pass (10,500 ft.) and going cross-country to camp in a basin southeast of Virginia Peak.
Day 2: Detour to Return Lake, then returning by the same route as the day before.
Participants: 5
Saturday October 24
My original plan for the weekend was to join in a 'trans-Sierra dayhike', an annual event which this year was to be between Lake Edison and Mosquito Flat, in the central Sierras. Snow on the high passes prompted the trip organizer to cancel the trip, and so I was left trying to make other plans. After some last minute e-mails, Sassan and I arranged to join Louise's attempt on Virginia Peak. We were warned that there might be a fair amount of snow.
Because of the last minute planning and packing, we weren't ready to leave the bay area until Friday evening. So we decided to try something different and waited to take off until around 1AM on Saturday morning, having had almost exactly ½ of a good night's sleep. This worked surprisingly well as the roads were basically empty and we made rapid progress. We had only 1 stop along the way, at 4AM in Oakdale for gas which was oddly enough the only place where we saw more than a handful of people on the road. Going through Yosemite was downright eerie – between the early hour and the prohibition on parking overnight on 120 in the park, we saw all of 4 other cars the entire time going through there.
From Lee Vining, we took 395 north and turned off after 20 miles onto the dirt road leading to Green Lake. The next 9 miles took half an hour, and the sun was rising when we arrived at the trailhead just before 7AM to meet Louise, James and Andrea. By 8AM everything had been packed and we set off up the trail toward Virginia Pass.
The valley we walked through was in the last stages of fall, with the aspens mostly bare and the ground covered with brown and yellow leaves. The first stretch of trail was pretty flat, but after a mile or so we began to climb. We had great views back toward the Walker River Valley. Ahead of us there was a nice ring of peaks with Virginia Pass slightly to the left and more than just a sprinkling of snow at the higher elevations.
We reached Green Lake (9000 ft.) around 9:30AM. Here things became a bit trickier, and after following one of several use trails around to the southeast side of the lake, we continued upward, encountering increasingly large patches of snow. Partway around, we found the remains of some logging equipment. In short order the trail disappeared beneath the snow, and we were on our own. Louise led us along the north side of the valley, trying not to get too far from the creek. The snow was not only bountiful but for the most part rather well-packed, which made getting a good foothold occasionally tricky.
As we plodded up snow-covered slopes, we found a large number of recent bear tracks. Unlike us, the bears didn't seem to have been bother by the occasional hard-patches of snow. We wound up more or less following their tracks (they also appeared to have been going up toward Virginia Pass). After long, partly dry meadow, we had one slightly tricky stretch of (hard) snow, and we were on the pass at a little before 1PM.
The views from Virginia Pass south into Yosemite (NP) required a little time to take in, so we paused for a brief lunch-break. The scene was more reminiscent of early spring than late fall, with areas above 9000 ft. largely covered by snow, and a bright sun lighting everything up. The next part of our hike involved descending into the bowl below Virginia and Twin peaks. We zig-zagged through snow, scree, and occasional thornbushes for a good hour, and were quite warm by the time we finished the traverse. It was a beautiful location, with several small ponds, trees, and a lot of snow on the ground. After searching and failing to find any flat spots free of snow, we determined to camp on the snow.
Once the tents were set up, I tried to make the most of the afternoon sun (my boots were soaked through, in-spite of liberal application of sno-seal the night before). Louise and James went off to explore possible routes for ascending the peak. At least from where we had camped, it looked to be an intimidating prospect – 1000 ft. up a steep gully with lots of snow in it, and then a long traverse along the ridge before we would be even within striking distance of the peak.
We lost the sun around 4:30PM, courtesy of Virginia Peak. Around 5PM, everybody was back and we set about preparing dinner. I was glad I'd brought along 'double rations'. Towards the end of dinner, we were treated to a beautiful sunset and alpenglow, as the scattered clouds and distant peaks turned golden and then red in the sun's fading light. Without the sun it became cold quite rapidly, and everyone was in a tent by 7PM. I had a somewhat uncomfortable night as my thin foam pad failed to fully insulate me from the cold of the snow.
Sunday October 25
In the morning everybody was up around 7AM. After some consultation, we'd decided not to attempt the peak (too much snow in the wrong places) the previous evening, so we had a relatively leisurely breakfast. The wind, which had come up in the middle of the night, helpfully died down. Still, it was pretty cold and the pond where we'd pumped water from the day before was now frozen solid.
Before returning, we made a side trip to Return Lake. We found bear tracks going that way too. The lake was scenic, but unfortunately for James who'd brought his fishing gear, did not have any wildlife. The morning sun was quite warm, making some parts of the snow quite slushy as we returned to camp. Organizing and packing everything took a bit of time, but by 11AM, we were on our way back toward Virginia Pass. We took a slightly rockier route this time around, but managed to avoid most of the snow and bushes on the way up.
At the top we had a snack, and then switched over to snow gear for the descent down the other side. I borrowed one of Louise's lightweight crampons which proved very helpful as I slowly wended my way down the hard snow. Others had two crampons and moved more quickly.
The descent felt lengthy. We did a better job of following the trail down than we had coming up the day before, but we still lost it numerous times in the snow. The sun made for a warm and often slushy time of it. Still, we reached Green Lake at 3PM and once we'd enjoyed the site, we continued our way down the main trail without future delay. The rest of the return hike was uneventful, and we reached the trailhead a little after 4PM.
After some rearrangement of packs/trunks, we said goodbye to Andrea, James and Louise and commenced the drive back. Now that it was full daylight (unlike when we arrived), we had some sweeping views down the valley on Bridgeport, it's lake and other distant mountains. We choice to go over the Sonora Pass for our return, in part so as to see the aspen trees (and fall colors) along that road. Unfortunately, we were a little too late and much of the route up to the pass was in the shadows. It was a steep and winding ascent, and the other side wasn't much different. I think we must have dropped 3000 ft. in about 15 minutes.
We crossed the Sonora Pass at 6PM. The sun set half an hour later, but we had plenty of light until well past 7PM. We made good time and with no stops and no major delays, we arrived home at a quarter past 10PM tired and ready for a rest.