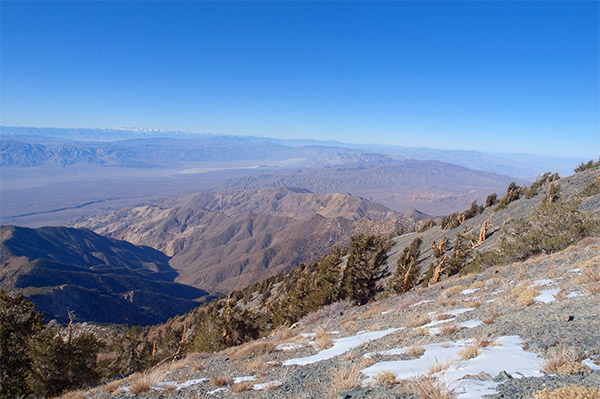 For George's birthday, he decided to climb Telescope Peak, near Death Valley. Having never been to that area we were happy to go along. We spent the first part of the day after the climb exploring Death Valley.
Summary
Telescope Peak and Death Valley: 4 December – 6 December 2009
Day 1: Driving to Ridgecrest (5h30 from Cupertino). Stayed at motel.
Day 2: Climb Telescope Peak from Mahogany Flat (14 miles, +3000 ft round trip). Drove to Furnace Creek. Stayed at motel.
Day 3: Explore Death Valley (Zabriskie Point, Badwater, Natural Bridge, Artist Drive and Rhyolite). Drive home (8 hours).
Participants (hike): 6
Friday December 4
We left the bay area on Friday afternoon a little before 2PM. Happily, we beat the rush hour crowd. From Cupertino, we took the usual CA 85 south to US 101 south bypass of San Jose. At Gilroy, we turned off onto CA 152 east. Mercifully, there were no major delays getting out to the Pacheco Pass. Then we followed I 5 south all the way to Lost Hills. The central valley was blanketed in a somewhat eerie thin fog. Taking CA 46 east from there, we crossed the central valley. The sun had set before we reached CA 99, south of Fresno.
Continuing to Bakersfield, we got off on CA 58 east. The last time I'd been on the road was when I was on a band trip in high school, but it appeared to be a pretty popular route. There were lots of big rigs clogging up the road to Tehachapi. Near Mojave, we hopped on CA 14 east, and after bit less than an hour, we got off on CA 178 east and soon entered Ridgecrest, a sprawling mess of a town whose existence, I gather, is largely due to the huge military base next door.
We found the rest of the group at the Motel 6, and after arranging for a meeting time the next morning, had a quick dinner in the room and went to bed.
Saturday December 5
We were up at 5AM the next morning, and arrived at Starbucks not long after. Then it was time for the long drive to the trailhead. We followed CA 178 east for over an hour as the sun slowly rose, largely hidden by a thin layer of high clouds. When the highway turned northwest, we continued on the side road toward Wildrose. It proved a case study in how badly an unmaintained road can deteriorate given a number of years and a little traffic.
Near Wildrose we saw the first traces of snow on some far hillsides. Given our elevation, this seemed unpromising. We left our car there and joined George in his 4WD. The road was mostly clear of snow up to Charcoal Kilns, but beyond that, hard snow and occasional ice became pretty common. Still, the cars managed the final few miles up to Mahogany Flat. When we parked, there we no other cars, and a brisk wind was blowing. The skies were still almost entirely gray.
We all tramped out of the parking lot around 8AM. The sign claimed Telescope Peak to be 7 miles away. The trail began traversing through thin pine trees on the eastern side of the main ridge. Soon the slope steepened and the trees mostly disappeared affording a look down on Death Valley, which appeared from our vantage point to be pretty empty. After 45 minutes, the trail crested the ridge and went over to the west side. At the same time, the clouds began to lift. Soon we could see not only the Panamint Valley and the Argus range on the other side of it, but snow-capped peaks in the Sierra as well.
The trail actually descended for a ways here, soon dropping off the ridge entirely. Another 45 minutes in, we crossed back over and began to ascend in earnest. Up until that point, the snow, while present, had been pretty patchy. But the switchbacks we now climbed had a fair bit of the stuff. This, and the increased elevation and grade, slowed all of us down. Meanwhile, the clouds had almost entirely lifted, affording a gorgeous view east of Death Valley. It wasn't exactly crystal clear, but you could actually see the snow-capped summit of Mt. Charleston, Las Vegas' nearest major peak, some 100 miles away. Indeed, from the last stretch of ridge up to the summit, you could see White Mountain Peak (for once actually white, thanks to the snow) an even greater distance to the north.
We arrived at the summit before noon. Soon the wind came up, so we didn't spend too long there, but we had enough time to toast to George with some sparkling pomegranate juice and get a group photo before moving along. As expected, the views were magnificent, and we made sure to have a good look at the bottom of Death Valley, more than 11000 feet below (which some PCS hikers, 2 weeks before, had actually climbed up from).
The descent actually felt longer to me than the ascent. Partly this was because the snow presented more difficulties going down than up, but the long section of ridge between Telescope and Rogers Peak where we had to reascend, didn't help. We also got a good sense of how short the days were, for when we finally returned to the east side of the ridge around 2:30PM, many of the valleys below us were entirely in shadow. Soon we were too. We got to the parking lot at 3:30PM.
The drive back down the icy/snowy road was a slow one, but there were no mishaps. At Wildrose we parted ways with most of the group which was going back to Ridgecrest. We continued on the road toward Death Valley (happily this stretch appeared maintained). We saw bits of a rather colorful (and very cold) sunset going over Emigrant Pass. After joining CA 190, we arrived at Stovepipe Wells, where we considered spending the night in a campground, but opted to go on to Furnace Creek instead. We reached Furnace Creek at 6PM and got a cabin at the Ranch.
After a rather cold and long day, it was nice to have a hot dinner, take a shower, and call it a night.
Sunday December 6
The next morning, we were up at 6AM. We drove straight to Zabriskie Point. There we saw the sun gradually rise over the eastern ridge and illuminate the Panamint range and the interesting collection of hills that the point is famous for. We weren't the only people admiring (and photographing the view).
Next we continued on to Badwater. There wasn't much water in sight, but anything in the middle of that long desiccated stretch of valley was something. After that, we paused at the Natural Bridge. This required a pleasant little walk up an interestingly sculpted canyon. Just beyond that, we took a detour along, 'Artist Drive', a roundabout that passes by an area full of interestingly color and shaped rock formations.
Finally, we decided to try and visit the ghost town of Rhyolite. This required driving east out of the valley and across the Nevada border in the direction of Beatty. The long empty plateau we crossed getting there was quite spectacular. The town itself was a curious combination of museum and junkyard. There were a number of interesting older buildings that still looked like something, but for a place that supposedly had 10,000 inhabitants less than 100 years ago, there was surprisingly little.
From Rhyolite, we drove home. We left around 2:00PM. By 3:00PM, we'd passed Stovepipe Wells and were on CA 190 going west. The scenery became more and more interesting. After Panamint Springs, we stayed on 190, following the interestingly contoured route onto the Darwin plateau. We passed near several snow-capped peaks before finally descending on the Owens Valley.
At 4:30PM, we were in Olancha, joining US 395 south. 50 miles south of that, we exited on CA 14 west. The sun had set. Another hour and we were on CA 58 west, near Mojave. We were happy to find a gas station at Tehachapi, although it was quite cold and windy there. We reached Bakersfield at 7PM. We continued on 58 west across the central valley, which proved a bad idea, as the road had plenty of traffic and stoplights. Then it was a long stretch of I 5 north to CA 152 west, to 101 north to home, where we arrived around 10:30PM.