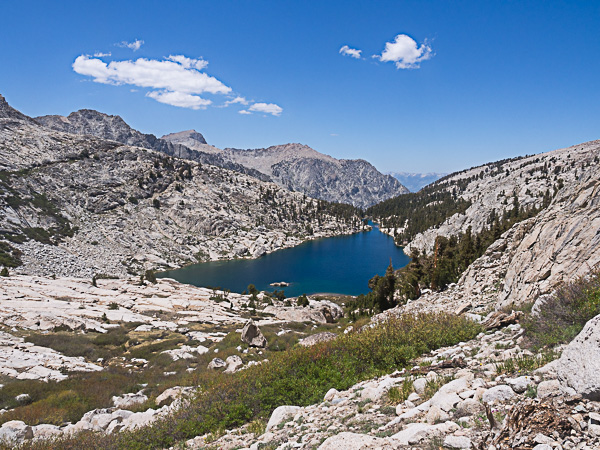 The 'Circle of Solitude' (so named by author Mike White) is a 65-70 mile trek in the heart of the High Sierra crossing some of the most wild and remote parts of Kings Canyon and Sequoia National Parks.  My father and I did the trek in mid-June, 2014.  Due to the low-snow year, we did not have any real difficulties with the snow or stream crossings, but we did encounter far more than our share of mosquitoes.
Day 0
Choosing the destination for our trip requires some head-scratching. For once, finding time is not the issue. I'm off school and work doesn't start for another week. In an ordinary year, mid-June would be a bad time to visit the high Sierra due to snow and high stream crossings, but as meteorologists around the state keep reminding us, this is no ordinary year. Minimal rainfall plus a warm May suggest snow won't be an issue. As to mosquitos – the scourge of early summer in the mountains – we receive conflicting reports.
My hope is to do a loop that will take us to some unusual and seldom-visited spots, and after poring over topo maps and combing through various online trip reports, I come across an itinerary described as 'The Circle of Solitude' in a hiking book – a 68 mile loop starting from Road's End in Kings Canyon going through Cloud Canyon and Kern Canyon and crossing 3 high passes in the process.
We make some inquiries to the rangers and wilderness offices and after receiving encouraging, though vague comments on the state of the route and general mountain conditions, we determine to try this route, aiming for 5 days.
As always, gathering together all the gear and supplies takes far longer than expected. Despite the huge pile of stuff we uncover, there are still plenty of items missing from the list, especially food, so I spend the afternoon at REI, Trader Joe's and Safeway. Then there is the matter of fitting the food into the bear cannister, packing up the backpacks, and clearing out the car. By the end of the evening, we're still not quite ready, but close.
Day 1 – Getting to the trailhead
There are the usual last minute adjustments in the morning to the packs, plus the addition of numerous nearly-forgotten items. Loading up detailed maps on the smartphone(s) – our printer is misbehaving again – takes time too. Finally, we have a quick breakfast and at a little past 10AM, we hit the road.
The drive to Road's End is estimated by Google Maps to take 4 hours, 45 minutes. We head south from the bay area and over the Pacheco Pass to the central valley amid light traffic. Aside from pausing for gas in Los Banos, we make no stops. Our rapid progress finally comes to an end on CA 99, thanks to the numerous semi-trucks clogging both right and (when passing) left lanes. In Fresno just after 1PM, we exit onto CA 180, now a freeway, which seems to have enlarged considerably since our last visit (2008).
The road through the foothills to Grant Grove is as pleasant as I remember – curving but not winding – and we hit no real delays until reaching the park entrance. The ranger there cannot tell us when the wilderness office closes, so we press on, worried that we may arrive too late. A little way into the park, our good luck with the traffic runs out, and we spend 10 miles tailing a clueless SUV driver who doesn't seem to understand that the numerous turnouts beside the road are provided expressly for people like him. When first headlight flashes and then honks fail to impress the point on him, we wait until the road widens slightly at a saddle and squeeze by.
As we drive down into Kings Canyon, I realize that I've not gone this way in full daylight before. We drop down through scrubby terrain into the canyon, the views marred only slightly by the harsh midday sun and a mild haze. Were it not for our deadline, I'd be stopping at every other turnout for photos. The bottom of the canyon is no less spectacular, with the road and river proceeding side-by-side, thousand-foot rock walls on either side. Eventually, it widens out into a broad, U-shaped valley and a few miles past Cedar Grove, we arrive at Road's End. The time is shortly past 3PM.
Happily for us, the Wilderness Office is still open. The ranger here is more informed than the one I spoke with on the phone, but his comments re: mosquitoes are concerning. Too late for a change of plans though. We also ask about Harrison Pass (as a shorter alternative to Forester on the return leg), but he has no information on the route, other than it is unmaintained and rough. As we fill out our paperwork, another group arrives. In it is a photography classmate of my father's from ten years before at Foothill College. They are going to do the Rae Lakes loop. Small world indeed.
Permits in hand, we make our final pack adjustments. The mosquitoes are already biting, so we don't dally too long, but we do have to clean the car of food and scented items for the benefit of the bears. I take the opportunity to drink an extra pint of water and finish some of the grapes as well. By the time everything is ready, the shadows in the parking lot are beginning to get longer and it is 4:45PM.
The first two miles of trail we share with the Rae Lakes Loop. It's a mostly flat stretch, parallel to the river, with only occasional shade, and it feels hot. Despite careful weighing, our packs are probably around 30 lbs with all the late additions, and I can feel every oz. We pass a few other people, mostly dayhikers returning from Mist Falls and Paradise Valley. At the main junction, we continue to the right, and immediately cross a series bridges over both wet and dry streambeds. Then begins the ascent.
The switchbacks up beside Bubbs Creek provide us with good views of Paradise Valley and Kings Canyon. We take the occasional pause for photos and to admire a few of the many of lizards scrambling up seemingly vertical rocks. I try to pay extra attention to the trail in case any rattlesnakes are out enjoying the warm afternoon sun, but we encounter none. The climb is not particularly long, but it ascends nearly 800 ft, and by the end I'm getting concerned as my left knee – usually fine going uphill – is quite sore.
We reach the Sphinx Creek junction just before 7PM. Deciding to look for campsites on the other bank of the creek, we cross the bridge and go up maybe 100 yards when I see something brown and furry ahead of us. A few more steps and we realize we've found a brown bear cub. With no wish to alarm mama bear, we slow to a crawl, and after a few moments, the cub glances up, sees us, and bolts. We continue ahead cautiously for a bit, but see no further signs of bears. There is a good campsite near the river, with bear boxes and several flat spots, so we drop the packs and call it a day.
Dinner is simple – the sandwiches we planned on having for lunch. Even at 8PM, there's still plenty of light, and as we enjoy our food, a deer wanders through the camp nibbling on shrubs and sticks. She doesn't seem too put out by our presence, although when we get close for a photo, she retreats some. Despite early concerns, there are only a few mosquitoes. Next, we assemble our new (to us) tent. It's not the simple two-pole dome design we'd used previously, nor is it truly free-standing, but for a 3 lbs saving in weight, we hope it's sufficient for the job. Given the warm day, we leave the fly off. Sometime around 10PM, everything is finally set up (inflatable pads and organization inside the tent takes time) and we call it a night.
Day 2 – Sphinx Creek to Cement Table Meadow via Avalanche Pass and Roaring River
We wake up around 6AM. I'm feeling refreshed as it was a cool night and I slept well. It is already quite light outside the tent. We resolve to get an early start and skip a warm breakfast. Clif bars and granola bars will have to serve as breakfast. Disassembling and folding up everything takes us a while, so it's not until 7:45AM that we set off and much of the shade on our side of the valley is already gone.
The trail switchbacks steeply up alongside the south bank of Sphinx Creek. Our views grow better with each switchback as we slowly climb out of the Bubbs Creek valley. Alongside the trail, we find many wildflowers, most of which I do not recognize. Perhaps next time I can remember to bring a native plant book along. Climbing is hard work, but after an hour or so, we get our first real views of snow on the spurs of a ridge leading to North Guard. The trail eventually reaches a ridge near 8900 ft, but quickly begins to drop down into the valley containing the creek. I'm a little lightheaded when we reach Sphinx Creek (8600 ft.) at the bottom of the valley, so after crossing via a log, we pause for a snack. The place is a bit swampy, but we see fish in the stream and fields full of shootings stars.
At 10:30AM, we start again. The trail traverses north, crossing another small valley, before beginning to ascend again in earnest. The temperatures have risen considerably, and even though we have a decent amount of shade, I'm sweating heavily. On one switchback, we come across a couple – the first people we've seen since the Paradise Valley junction the day before. They're on their way for 12 days trek that will take them up Deadman Canyon and over Elizabeth pass, but end up passing Rae Lakes as well. I'm a bit envious until I think about how much their food must weigh.
All told, it takes us nearly 2 hours of switchbacks through thin pine forests to reach Avalanche Pass. Half a dozen times, I think we're at the ridge, only to discover that the ridge we're at is not the right one. It's hot and dusty and while we do get occasional views of Mt. Brewer, not all that scenic. Avalanche Pass itself is grossly misnamed, a slight hump (10,100 ft.) amidst the pines. We stop for a rest after descending a few hundred feet, as we finally have a view of Palmer Mountain.
Continuing forward, the trail drops into the upper section of Moraine Meadow. Here, we find wildflowers in profusion, though some are already past their peak. There are also thickets of aspen trees along the trail, whispering with a faint breeze. On one of the hillsides between some pine trees, I see something black and furry which begins to run. Another bear cub! It vanishes quickly though, and we see no other bears as we continue.
At length, the trail levels out and we continue to trudge on. The aspens and flowers are gone, replaced by more of that thin pine forest we saw on the other side. I am beginning to question the map's distance measurements as we have been descending for quite a while, but the trail finally begins to turn to the right and crosses Moraine Creek, and when we see small ridge, with a shady area and a view a little before 3PM, we stop to have our lunch. String cheese and crackers may not sound like much, but they taste infinitely better after a half day hiking in the sun with full packs. We also have a good view of Palmer Peak.
We somewhat reluctantly resume our descent after finishing one packet of crackers. The trail veers toward the creek briefly before climbing slightly onto the ridge. There, for the first time, we have a view to the south and west. There is some haze, but we can clearly see the Roaring River, Cloud Canyon, Deadman Canyon and several other valleys. The trail meanwhile becomes quite steep, and we spend the next half hour trying not to slip on pine cones as we drop down between manzanita bushes and the occasional large lodgepole pine. At 4:15PM, we reach a junction and the Roaring River, elev. 7400 ft.
First we cross the river and stop at the ranger station. The place is closed, and nobody is about, so we admire the large rocking chair in front and scour the message board for useful information. One report indicates that the snow on Colby pass is manageable. Good news for us, since we hope to cross it tomorrow. Next, we take a break on the east bank of the river and pump some water. We see the same couple from the morning as they cross their bridge on the way to Deadman Canyon.
A little before 5PM, we resume our hike. The hope is to make it to Cement Table Meadow in lower Cloud Canyon for the night. The book claims that there're good campsites there, and at 4-5 miles distance, it seems well within reach. Unhelpfully, the trail does a lot of meandering. In theory we have 900 ft. to gain to get to the meadow, but the trail is going up and down so much it's hard to get any sense of progress. Plus it's hot, we're tired, and the mosquitoes are becoming quite numerous. After what seems like forever, we reach Brewer Creek, and take a break to consult the smartphone GPS and don our mosquito headnets. We pass near several meadows with nice views, but there are no obvious campsites.
By 8PM, I've had enough. My dad thinks we should continue further to reach another campsite mentioned in the book, but my legs are quite sore and the light is starting to fade. Given that the Big Cement Meadow campsites failed to materialize, I'm particularly dubious about going further. After some debate, we find an adequately flat patch of ground for the tend near the trail under some pines. By the time the tent is up and we've pumped some water, it's pretty dark and the mosquitoes are still buzzing around. I'm too exhausted to care about cooking, so we go into the tent immediately and nibble on the remainder of the string cheese. It's past 10:30PM when we call it a night. Thanks to the warm weather, I sleep only fitfully with many strange dreams.
Day 3 – Big Cement Meadow to Rockfall Lake via Colby Pass
We get up fairly early and set about decamping. Mosquito activity has dropped, but there are still a few about. At 7:15AM, we're ready to go. For the second days in a row, we have a cold breakfast on the go.
After twenty minutes of brisk walking, we emerge onto Big Wet Meadow (8800 ft.). The sight of the meadow and upper Cloud Canyon is gorgeous. It's early, so we're still in the shadow of the Great Western Divide, and there's a thin layer of frost on the ground. Roaring River is at this point a meandering stream and the edges of the meadow are full of little ponds and shooting stars. Progress is slow as we pause for numerous photographs.
At the far end of the meadow, we reach the creek crossing where there is no obvious alternative to wading. Fortunately, the river is wide here, but the water is quite cold and the sun has already brought out the mosquitoes. Still, it takes more than 20 minutes to de-boot, cross, dry and re-boot ourselves. A cursory look around from the west bank of the creek fails to turn up Shorty's Cabin, so we continue on. After ascending a bit, we meet a solo hiker bound in the opposite direction. He is coming from the Kern River where we hope to be by the end of the day, and reports no significant obstacles and better mosquito conditions on the other side of the pass.
A little farther along, the trail recrosses the creek and begins to ascend in earnest. We take a break on a rocky shelf with a view of the canyon. The trail is quite steep, so we gain elevation quickly. After coming up 400 feet, we drop down to cross Colby Creek and avoid a rockfall. A little further along the trail crosses back, and after navigating around a marsh of sorts, crosses back another time. The scenery is beautiful, but it's hot and there's no shade or breeze which dampens the enjoyment considerably. Even with another break, it still takes a huge effort to make it up the final 500 ft. to the lip of Colby Lake (10,600 ft.). The fact that the trail is difficult to follow in places does not help.
We pass along the eastern edge of Colby Lake to stop at the far end, in the shade of a few trees, for lunch at 12:30. The lake is gorgeous and the bugs are not too bad, so I take the opportunity to remove the mosquito netting as we have lunch. Mainly, it's nice just to stop walking for a bit.
At 1:40PM, we resume the slog up toward Colby Pass. The initial stretch after the lake is quite steep. Things level out briefly in a little bowl, but then become even steeper. We encounter our first serious snowbank at 11,200 ft, and expend a great deal of effort to circumvent it by walking up a boulder field. A second one is easier to deal with. Finally, the trail settles into steep switchbacks and we proceed at a crawl toward what must be the pass. Some stretches of trail are loose pebbles and each step is a challenge. At least we have a breeze to cool things off.
We reach Colby Pass (12,000 ft) almost precisely at 3PM. It feels if anything even more remote than I expected. The views back to the west we've had a chance to familiarize ourselves with climbing, but the east side is entirely new. We have the Kaweahs, the Kern-Kaweah drainage and even some things east of Kern Canyon in our sights. I take plenty of photographs, but the process seems woefully inadequate to the tasks of documenting the immensity of our immediate surroundings. Aside from a marmot perched on a rock above the pass, we are utterly and completely alone.
At this point, doing the 6-7 miles down to Junction Meadow on the Kern River seems an achievable goal for the day. The book claims there are bear boxes and several campsites there, which would help us quickly get set up. I'm a bit concerned about the Kern River crossing as it is often difficult early in the season, but either way, we have to find out. At 3:45PM, we start our descent.
The trail down the east side of Colby Pass leads us first into a bowl past a small lake, before zigzagging down a series of granite shelves. It flattens out at 11,200 ft, and we pass through a high meadow with amazing views of the Kaweahs and other nearby peaks. Around 11,000 ft, we reach a forest and the edge of the main Kern-Kaweah valley. The trail immediately becomes tortuously steep and not for the first time I think what an unpleasant thing it would be if we are forced to return the way we have come. As hard as I try to minimize the strain, I can feel my knees taking a beating.
It's hard to tell when we reach the bottom of the valley, save that the grade of the trail becomes reasonable once more. The mosquitoes also immediately become much worse. When we pause so that my father can apply some moleskin, we are instantly enveloped by hordes of the little beasts. Once the headnet is on, I feel safer, but I soon become uncomfortably hot due to its extra insulation. I don't pause for many photos, though I make an exception at a large wide meadow which is allegedly the location of Gallat Lake.
Past the end of the meadow, the trail parallels the Kern-Kaweah River as it passes over a series of rapids. We again lose some elevation and drop into the trees. It's a little bit past 7PM and we're visibly beginning to lose light when we reach Rockfall Lake, a widening in the river with some good perches for fishing, but no clear campsites. A few minutes further along, we reach a granite slab with a view across the Kern River gorge and the head of our own valley.
As with the previous night, we have to decide on a camping plan. I am in favor of the granite slab – we have a nice view, and in theory some exposure to a breeze to minimize mosquitoes. My father prefers to continue down to Junction Meadow. After our previous night's failure to find a good campsite, I'm not eager to pass up the site at hand, so we decide not to go on. The bugs are not as scarce as I'd hoped, but they do seem more manageable than they were in Cloud Canyon.
After pumping water from Rockfall Lake, we set up the tent and get to the business of having a hot meal for the first time in two days. The main course for dinner are two Mountain House freeze-dried meals, but we supplement them with some dried noodle mixes and tea. Despite the complications of eating with a headnet on, it's great to be able to munch on warm food while watching the shadows grow across the Kern canyon. No doubt our bodies are happy to get some 'wet' calories as well. Sleep-time comes at 10PM.
Day 4 – Rockfall Lake to Tyndall Creek via Junction Meadow
Despite the relatively exposed location of our tent, it was a warm night and I didn't sleep all that well. The tent did an unhelpfully effective job of trapping our heat inside throughout the night, even the we didn't install the fly. The usual morning routine followed – compress the sleeping bags and pads, clear out the tent, dismantle the tent, nibble on some bars for breakfast, remove lunch from the bear can, and load up the backpacks.
Around 8AM, we started on the trail towards Junction Meadow. We immediately passed through a narrow pass above our campsite into a small hanging valley. Here the sides of the trail were quite overgrown, first with manzanita and then with other shrubs. We switchbacked down among these plants, alternating between swamp-like stretches of streams and ponds and semi-desert parts where sage and chinquapin dominated. It was fairly steep as well, and we could see the bottom long before we reached it. Scarcely had the trail leveled out when we passed beside a few large trees and the Kern River was in front of us (8100 ft.). The time was 9AM.
The river itself didn't look especially deep, though it was certainly wide. After failing to locate any log or steeping stones upstream, we took off the boots, and waded across. The sticks were essential in avoiding slipping, but the water, while very cold, never reached above my knees. On the far bank, we had a snack, dried off, and slowly put the boots back on. This proved a mistake, for only a few hundred feet further along, we found another branch of the Kern River. This one too lacked an obvious crossing, so once again we were obliged to take off the boots. I did double-check after the second crossing to make sure there was no third, but the net results was that the two crossings cost us over an hour. In that time, I ended up making another crossing of the second branch to fetch some gloves we'd accidentally left behind.
Once we were finally underway again, we followed the trail across the dry valley floor toward a forest of pine. There, we found campsites, but no promised bear box (contrary to what the book said). A little further on, we reached the 3-way junction with the High Sierra Trail. The southern direction takes you out toward Big Arroyo and Kern Hot Springs. The northern one goes toward Lake South America, the headwaters of the Kern. We go north.
In fairly short order, we are ascending again. There's a slight breeze, but it's nowhere near to making up for the direct sunlight baking us. As we climb, we can see that the Kern is coming down to Junction Meadow from a narrow gorge, and the trail rejoins the river somewhere above that gorge. After climbing almost 700 ft, we reach another junction. To the right, the HST ascends along Wallace Creek to join the JMT/PCT. As there is another shorter route to join the JMT/PCT still ahead of us, we go straight.
Once the ascent ends, we enter the trees again, paralleling the Kern a few hundred feet away. A few minutes later, we find ourselves passing a roofless wooden cabin. No mention of this either on the map or guidebook, but it appears to be a well-built structure, albeit without much protection from the elements. Our slow ascent is finally interrupted after more than a mile by Tyndall Creek. Despite being fairly narrow, we are unable to find a dry crossing, and so we repeat the routine of removing the boots for the third time this day. The arrival of a swarm of mosquitoes hurries our departure from the other shore.
Our path remains fairly flat for another half hour or so when we arrive at an unmarked intersection. Here, the map tells us, is the short route to the JMT/PCT which it joins above at Tyndall Creek. It's now past 1PM, and quite hot out. Initially, we think we'll take the other route, continuing on to Lake South America. But when we examine the map further, we see we will have to cross the Kern at least two times up ahead. The fact that the route is also longer and requires gaining another 1,000 ft tips the balance toward the JMT shortcut.
As soon as we started up on the rightward route, I wondered if we'd made a mistake. We quickly lost our shade and began ascending very steep switchbacks in the direct sunlight. While perhaps not as steep as our descent from Colby Pass, the route was still steep enough that I frequently found myself taking mini-steps to avoid sliding backwards. Here too, we found no sign of recent trail maintenance and had to remain vigilant to avoid losing the route.
After half and hour of this fun, we finally saw what appeared to be the ridge over which the trail went. It took quite a while between seeing it and reaching it, but the addition of a small breeze and some areas of shade helped us out a lot. At 2:20PM, we finally crossed a smaller saddle, and began a gentle descent across rolling hillsides. We were hoping to pump some water at the next stream, but this turned out to be a swamp, so we continued. The trail then paralleled Tyndall Creek, ascending gently through the pine trees and across some meadows and so we followed.
The hope for a lunch at the point where the trail crossed Tyndall Creek, near the Tyndall Creek ranger station was complicated by the fact that the trail had become increasingly indistinct across several meadows, and then disappeared altogether. Unable to find where it had gone, we tried triangulation, using the GPS to find the crossing, but at the indicated location we found neither a trail crossing, nor any hint of the ranger station. So instead we find a shady bit of grass near to the stream, and plop ourselves down on it. We have a few winged visitors, but nothing unmanageable, and a relaxed late lunch (it is now 3:30PM) follows.
At 4:30PM, feeling somewhat refreshed, we resume our search for the trail. Our new strategy is to continue to the point where the JMT/PCT crosses the creek, since it will presumably be easier to see than the barely-maintained trail we came up along. This proves a good choice, for shortly after we catch a glimpse of a backpacker on the opposite bank of the creek, we find a series of stepping stones, and at each side of it, a clearly defined trail.
Since Lake South America is no longer on our path, we need to figure out a place to camp. A few hundred yards north of the crossing the trail are campsites and a bear box – in fact this is the same site we stayed at 7 years before, in the course of another high Sierra loop (Onion Valley to Symmes Creek). Still, it's not even 5PM, so we decide to continue on a little further and see what we find. We reach the Lake South America trail junction not far above. The views of Tyndall Creek and Mt. Tyndall are magnificent, but there's not obvious campsite here, nor any streams for water. We admire the view, and return to the other site.
Setting up for once well before dusk, we have the luxury of taking our time. While examining the available sites, we discover we have a neighbor. Once we've chosen a site and put up the tent, we go down to the creek to relax and take photographs. Slowly the creek and then the campsites fall under the shadow of the surrounding mountains. While we are preparing dinner (more Mountain House and noodles) our neighbor returns. We learn that he has had a great day climbing Mt. Tyndall and descending into the Wright Lakes Basin. He is only the second person we've seen since leaving Cloud Canyon. Dinner is made more relaxed by the fact that the mosquitoes seem to have retreated. Altitude and cool nighttime temperatures have their uses.
Day 5 – Tyndall Creek to Sphinx Creek via Forester Pass
We awake to false dawn. Aiming for an early start, I'm out of the tent by 5:15AM, and I notice a peculiar cloudbank to our east that's being painted red by the rising sun. Before beginning to dismantle the tent, I make sure to get a few photographs of it. We're almost done packing when our neighbor passes by on the way to the bear box. We chat and exchange e-mail addresses. Perhaps next summer we'll cross paths again.
Early morning is the best time to hike. That's true even when mosquitoes and heat aren't an issue. This morning is crisp and cool and we make excellent time as we ascend gently in the direction of Forester Pass. The views just keep getting better and better. We encounter quite a few marmots in the meadows. Idly, I wonder how long they've been up. A small group of deer are browsing 500 feet below where we take our first break.
As the trail curves, we lose our view in back of Tyndall Creek. Instead, we're treated to the massive rampart of the Kings-Kern divide. We meet a pair of PCT hikers decamping as we work our way toward the granite slabs ahead. Apparently they had no trouble finding a suitable camp site. I guess a few weeks on the PCT will do that to you. At the top of the next hillock, we get a few of a large lake, more than half still covered in ice. The final level stretch below Forester Pass takes us across a large snowfield, still quite crisp underfoot.
At 9AM, the main climb begins. From the south side, we can clearly see the immense amount of labor that went into constructing the trail, in many cases blasting a path out of solid rock. Below one large rock, we find a plaque memorializing one of the trail-builders who was killed in an accident there during its construction in 1935. Rest in peace, Donald L. Downs. We meet our first southbound hikers soon after – they confirm that while there is snow on the north side of the pass, it shouldn't be a serious obstacle. We strain up the switchbacks, lungs straining, heads throbbing, one foot in front of the other. It is only a few minutes below the top that I realize that the thing I thought was an impassable narrow keyhole is actually the pass. Fortunately, we have a good trail, and as I am again feeling lightheaded, I take care to keep away from the edge.
At 9:45AM, we reach Forester Pass (13200 ft.). This is quite literally the high point of the trip, and while it is my third time on the pass, it has lost none of its magic. As on Colby Pass, attempts to capture its significant via photograph feel superfluous, but I feel obligated to at least try. Unlike the first two days of the hike, the air is quite clear and views south to the Kaweahs and north to Mt. Clarence King are as crisp as one could hope for. We meet several people while on the pass – two JMT hikers on their way south as well as the two PCT hikers we'd seen earlier. Some people even have cell service, so for a time there are 6 people and at least 7 conversations going on.
At 10:30AM, we are ready to continue. It would be great to spend the rest of the day up here, watching the world from above, but the map tells us we have more than twenty miles to go to reach the trailhead. Almost immediately, we reach a patch of snow, which we laboriously traverse around. At the next patch of snow, I realize that it is easier to 'plunge' step down the snow, than to scramble on the loose rocks and pebbles. We lose elevation quickly. After a section of traversing a steep hillside, we find ourselves on a broad ridgeline, stretching directly north. The views on both side – west of Mt. Stanford, and east of Junction Peak, are notable. We also see many little clumps of purple wildflowers.
After dropping off the ridge to reach Lake 12257, the trail makes a broad sweep across granite shelves to descend down toward Bubbs Creek. Some of the more recently repaired stretches are surfaced with loose mid-sized rocks. We slow down to avoid any twisted ankles.
An hour after we leave the top, we pause at a stream crossing to get a snack and pump some water. Already we are encountering mosquitoes again. We enjoy a cool drink and an unusual view of a halo in the clouds in that have formed above us. My left knee is again beginning to give me trouble, which is not encouraging in light of the many thousands of feet of elevation we still have to descend.
We resume the descent, although I am not enjoying the views as much, as I devote all my attention to minimizing the strain on my knee, and to not tripping. We are now meeting southbound backpackers fairly frequently, although as we descend down to Bubbs Creek, we mostly have the trail to ourselves. Despite the overcast, the sun is quite warm, and I am wearing my thick mosquito-proof gloves and headnet making matters worse.
The trail rejoins Bubbs Creek not far from the Center Basin turnoff. I keep an eye out for this junction, but still can't manage to spot it. We have some nice views of the creek, tumbling among granite banks, but once we enter the trees, those disappear. At least the shade makes it a little cooler. The clue that we're getting close to Vidette Meadow comes when the trail ascends a hundred feet to a bald hill. I descend rapidly, thinking that now is finally the time for lunch and a break.
But before we reach the meadow, we encounter a curious encampment of tents, flags, and in the middle of the trail, a fellow dressed in a red uniform whom it turns out is a Canadian mountie. He greets us and welcomes us to Canada. This, as we learn, is part of a welcome and support effort on behalf of the PCT thru-hikers on their way to Vancouver (still 1500 miles away). He wishes us well, and the volunteers give us each a snack package, despite us not doing the PCT. Well, there's always next year.
Somewhat encouraged by this unexpected encounter, we reach Vidette Creek a few minutes later. In point of fact, there are several creeks here that we must cross, but none requires wading into the creek. On the other side, the trail ascends a little bit, and reaches, at long last, the junction with the Kearsarge Pass trail. We continue to the left though, and when the trail emerges onto granite slabs with a view of Junction Meadow below, we find a flattish shelf and make it our lunch spot.
By 3:45PM we've eaten our lunch, applied moleskin to our various blisters and are ready to attempt the next stretch. Fortunately while steep, descent to Junction Meadow is not far. It's a scenic stretch of rapids for the creek too, and we marvel at just how much water must flow through this valley in wet years.
At 4:20PM we reach the junction at Junction Meadows. It's not a bad place to camp (there's a bear box) but we've got plenty of afternoon ahead of us, and the promise of camping the same place we did on the first night, sans mosquitoes, is a powerful motivator.
The next six miles of trail are among my least favorite of the trip. For every two feet the trail descends, it seems to ascend one, which is no picnic for my tired legs. The views are also fairly limited, as we stick close by the creek, but under a canopy of pine trees. To be sure, this keeps it from getting too terribly hot, but it certainly is dusty. On top of that, the trail is frequently obscured by bushes and grass. Considering that this leg is shared with the immensely popular Rae Lakes Loop, I find myself surprised that the park service don't take trimming these more seriously. Sore knees and blisters just make matters worse.
At 5:30PM, we take a break, and again at 6:30PM. The GPS shows us making good progress, but without visible landmarks to go by, it doesn't feel like it. Finally, around 7PM, the face of the rock formation known as The Sphinx comes into view. Fifteen minutes later, we're standing at the same junction we stood at 4 days before. This time, when we cross the bridge to find the campground there are no bears or deer – just two other hikers whom we learn are out to do the Rae Lakes loop, but in the less-usual counterclockwise direction.
We embark on the usual evening tasks, somewhat hampered by the large numbers of mosquitoes that have arrived over the past four days. By all indications, the warmer weather seems to have brought them all out from wherever they'd spent the winter. We do however manage a hot dinner and even some tea. Still after nearly 20 miles on the trail, I'm more than happy to call it a night at 9:30PM.
Day 6 – Sphinx Creek to Road's End
I awake again at 5:30AM after an uncomfortably warm night. Breakfast is simplified by the fact that we want to get back to the trailhead as quickly as possible, and by the fact that the bear cannister doesn't have that much left in it. By 7AM, we're on the trail. We reach the switchbacks quickly, and aside from a few photographs take no stops until we reach the junction with the Paradise Valley trail. We meet a couple of trail runners, out for some early training, and a dayhiker from New Zealand who seems to be having as much trouble with the mosquitoes as we are, though this morning things are still fairly quiet. The final two flat two miles to the trailhead are a blur. It's 8:30AM when we reach the Wilderness Office, and ask one of the congregated rangers there to take our photo.
——
Retrieving the car from the overnight parking and stuffing the packs in the trunk required a little time. We finally left Road's End around 9:15AM. However, when we pass a quiet corner of the King's River a few hundred feet from the road, we decide to take a stop and use the opportunity to wash off some of the accumulated sweat and grime of the past few days. Naturally, the water is too cold to stay in for more than a minute, but it is wonderfully refreshing, and in combination with clean clothes goes a long way to taking us back to civilization. At 10AM, we resume the drive.
If anything, the drive out of King's Canyon is more scenic than the one coming in on Tuesday. The combination of an earlier hour and less moisture in the air gives us much better views as we ascend from the valley floor toward Cherry Gap. We have the road largely to ourselves for the first 25 miles.
After the park entrance, we end up in the middle of line of 12 or so vehicles. The drive down towards Fresno thus proceeds at a leisurely pace. The temperature rises quite dramatically as we descend, and soon we have the air-conditioner running at full blast. We don't stop in Fresno, but in a bid for a more scenic return route, we continue on CA 180 westbound from Fresno to cross the central valley. In the town of Mendota we stop at a little Mexican market to get cheese, and end up also getting several pounds of frozen fish, despite having no icebox in the car.
It's only when we are approaching interstate 5 that I realize we need to pick up some gas. So instead of exploring the Panoche Pass to cross to the Salinas Valley, we continue north on I 5, get a few overpriced gallons at a roadside gas station, and follow the same CA 152 route back that we'd taken coming.
In the interest of finding an interesting spot for lunch, we choose to continue on CA 152 westbound from Gilroy. Unfortunately, the spots that google maps suggested might be parks mostly turned out to be orchards and vineyards instead. At length, we reach Watsonville around 3PM where it is sunny and beautiful out, but not at all hot. There, we attempt for half an hour to find an open store with good bread. While the downtown did prove an interesting place to explore, we found no suitable bread. So, we continue north to Santa Cruz, where we get some excellent bread from the New Leaf market which we eat, along with the cheese from Mendota, for lunch, on the bluffs above Monterey Bay. We conclude our trip by driving north on CA 1, arriving home just after 7PM.