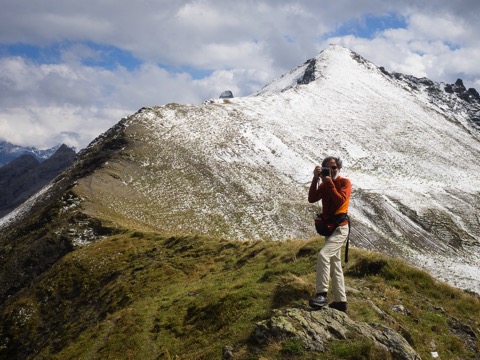 Prologue – Planning
In the summer of 2015, my dad and I were looking for a 10-12 day trek in Switzerland that would offer some challenging hiking, spectacular scenery and pleasant accomodations.  In researching, we made extensive use of the Swiss tourism office's Wanderland website and at length settled on doing a section of the Via Alpina.
The Via Alpina is in fact a whole series of long-distance trekking routes that follow the Alps from east to west across a good chunk of central and western Europe.  Even within Switzerland, there are multiple routes.  We chose the most popular variant, marked National Route 1 (green) on the maps.
National Route 1 begins on the Austrian border in Lichtenstein, goes across much of Inner Switzerland and the Bernese Oberland and finally comes out on Lake Geneva a short distance from France.  In all, it covers 370km in distance, and climbs nearly 25km cumulatively in elevation.  The recommended itinerary is divided into 19 stages, most ending in small villages or towns (the remainder in mountain huts).  Due to time constraints, we chose to do only the 12 stages from Altdorf, at the southern end of Lake Lucerne, to the summit of Rocher de Naye overlooking Lake Geneva.  We chose to go in the second half of September hoping to avoid the summer crowds and heat.