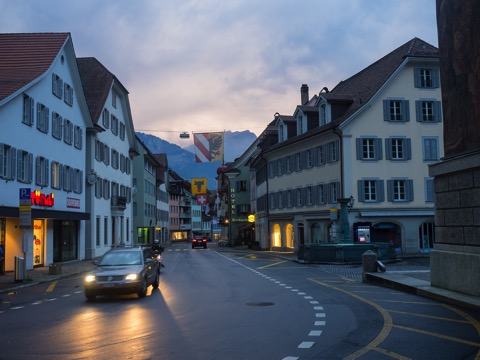 September 9 and 10 – Getting to Altdorf
I took advantage of the Labor Day holiday weekend to visit my grandmother in New York State for a few days and then flew into Zurich.  The flight itself was pretty unremarkable, though getting to JFK airport via a combination train, subway and walking reminded me that even a minimal amount of luggage can feel like too much when being wrangled down a flight of steps.  I wasn't able to sleep on the 9 hour flight, but they had a nice selection of classic movies on the infotainment system, including 'Guess Who's Coming to Dinner' so I was hardly bored.
Thursday morning (9/10 around 10AM) I arrived at Zurich.  True to form, immigration/customs was a breeze, and I found myself with a few hours on my hands waiting for my dad's flight.  One profitable activity was to shop around the airport shops for a local SIM card, and so for the princely sum of 40 SFR (Swiss Francs).  I gained a month worth of voice access, and 1GB data, which was later to prove invaluable.
Unfortunately, while my dad arrived in good time, his checked bag did not nor did the airline (Swiss) have any definite notion of when it might arrive (determining this second point took a few hours).  Fortunately hiking boots and camera gear were not in the checked bag, but it still left him short of clothes, and both of us without poles.  After re-assessing, we decided there was nothing to be gained by delaying the hike, so we bought train tickets to our starting point – Altdorf – and made use of the time until departure to research hotels.
We left Zurich airport around 4PM on one of the massive double-decker 'Inter-Regio' trains, surrounded by serious-looking business folk.  Half an hour later we hopped off in Zug.  A couple minutes later, we were on a packed commuter train speeding south toward Altdorf.  The ride itself was quite scenic, passing alongside several lakes and through the countryside.  The passengers too were varied, including a lady with a baby in her lap, and a dog compactly tucked under her seat.  By the time the train had reached Altdorf around 6PM, it had mostly emptied.
Altdorf as I remembered it was a scenic medieval town.  The train station however was a good 15 minute walk from the downtown itself, so we had plenty of time to admire the narrow valley and darkening clouds overhead as we trudged up.  Our stop for the night, the Hotel Zum Schwarzen Lowen (Black Lion!), was on the main street.  We got a tidy little room on the top floor, under the eaves, with a view spanning from the village to the neighboring forest.
Dinner was the next order of business, but it wasn't quite dark yet, so we took the time wander around the central portion of the town, and also to see what restaurants were available.  There were a surprising number, and before long the rain had started in earnest.  So we wound up at the Restaurant Tellenbrau in a homey downstairs dining area a few doors down from the hotel.  Ordering was complicated by our lack of German, but the salads were good, and the fleischkase an interesting (and meaty) addition.  Back at the hotel, a helpful receptionist tried to find a spare USB charger for phones and cameras, but without success.  We did not have difficulty getting to sleep despite the jet lag.