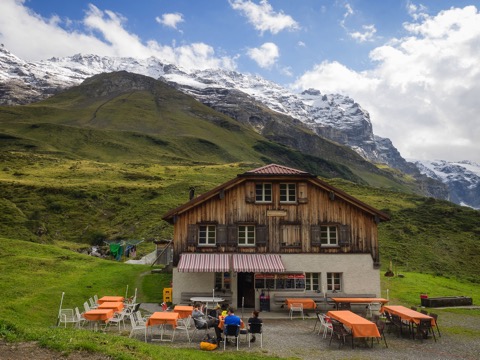 September 11 – Altdorf to Engelberg
While we'd originally hoped to hike the entire route, the length of the stage, coupled with a late start, prompted us to reconsider.  Breakfast was an enjoyable affair of local bread, cheese, fruit and other things.  Outside, the storm had cleared and everything looked clean and fresh.  There was snow on some of the higher ridges above the valley.  We deposited our excesss luggage with the hotel (to be retrieved upon our return in aroun two weeks), made a short stop at the grocery store for lunchtime provisions, and went to the tourism office to figure out how best to get to our destination.  We left with bus tickets to Attinghausen, a village on the other side of the valley, and instructions for the Seilbahn (sky train) lift to another village halfway to the pass.
The bus to Attinghausen was not full and we reached the upper bus stop around 11:00AM.  The Seilbahn was a little lift and no attendant on hand (trips were arranged over the intercom to the middle station), but we were joined by a small boy of 6 or so, presumably on his way home for lunch.  He left at the middle station, and we continued to the upper station at Brusti, a farming hamlet containing perhaps a dozen buildings.
Our hike began, as many do, steeply up a farming road.  The weather was not yet fully-decided, with a breeze and occasional bits of drizzle.  We saw a few small groups of people coming down, but nobody else on their way up.  An hour or so along, we left the farms behind for good, traversing a short ridge and climbed a hillock to be greeted with expansive views in front and behind.  The route had narrowed to a trail and after a large pond, the terrain shifted from grassy meadows to earth and rock.  The last half hour to the pass was quite steep, and we took several rests. 
By objective standards, the Surenen Pass (elevation 2291m) is a fairly typical Alpine pass – a gap in a ridge with valleys on either side, at a height of ~7,500 feet.  Our luck however meant we arrived on a clear day, with patchy fresh snow on the north facing side of the pass, wisps of cloud in the sky, and more serious snow on the mountains above.  Both valleys were beautiful of course, the one we'd come up being a short steep drop to the main valley that drained into Lake Lucerne (barely visible) and the one before us a long winding meadow/pasture with tall imposing peaks above.  It was in any case worth a break, which we took.
Descending was a lengthy process.  The trail twisted and turned initially, straightening out as the valley became broader, and crossing numerous streams.  We first passed a shepherd's shelter, then some sheep, and after about an hour arrived at the farmhouse of Blakenalp.  There despite our limited German, we managed to negotiate a cup of fresh milk, some bread and half a kilo of alpkase (Alp cheese) from the farmer.
From Blakenalp, the trail broadened into a jeep track and we rapidly dropped down, passing several other farms, finally reaching a road around 5PM, where we were greeted by a posse of goats scratching themselves on the bench and fenceposts.  The trail followed the road for a bit, then split, crossing the main creek into a cow pasture that had been turned to a mud wallow by the cows.  Clouds were again darkening, so it was no surprise when we entered a stand of firs and emerged on the other side in drizzle.
We arrived in Engelberg by stages.  First, the trail became much more definite.  Then, we encountered a few isolated houses.  Soon, the trail had become the sidewalk to a major road and we were seeing small groups of locals taking their afternoon stroll.  The town itself was quite good-sized, and it was fairly dark when reached our destination next to a large field in the center – the Hotel Bellevue Terminus.
The hotel was a large, stately building, constructed in an era when exterior grandeur, not the width of the flat-screen TV, was the measure of a fancy hotel.  We saw a group of traditionally dressed musicians leaving as we were checking in – part of a local celebration we were told.  It was almost 7:30PM when we arrived, so we weren't too hopeful about dinner, but to our surprise the hotel did offer a 'half-pension' ('half board') option, through an adjacent restaurant.  So it was that our dinner was at the crowded Restaurant Yucatan (mainly the bar was crowded), featuring banana curry soup, pork steak and mousse.  Not entirely traditional fare, but even a noted non-fan of pork like my dad enjoyed the meal.  After a brief post-dinner walk in the center portion of the town, and an unsuccessful attemp to learn the state of the missing luggage, we called it a night.