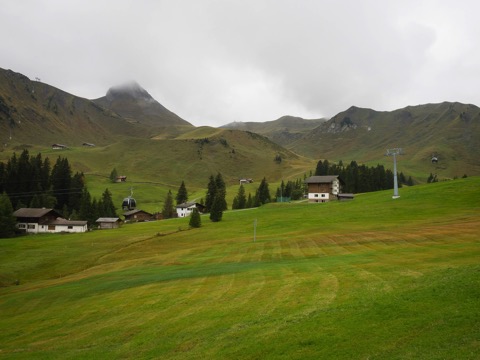 September 18 – Adelboden to Lenk
It was cold and partially overcast when we awoke the next morning.  Breakfast was in a large dining room that I presume would've been full had it been a weekend.  The food was typically good, and we took our time so that it was around 10AM when we finally were packed and ready to continue. 
Resuming the standard Via Alpina route – we'd skipped the previous day's segment over the Bunderchrunde Pass – we passed through most of the town, crossing the river at the far end near a lift station, to parallel another lift line climbing up mixed forest and pasture terrain.  We passed some curious sculptures, combining logs and large stones, as we climbed.  The trail stuck by a smaller stream, and we enjoyed the sight of numerous waterfalls and bridges.  A little before noon we reached a restaurant at Geilsbuel.
By the standards of the trip, the Hahnemoos Pass (1950m) was an easy pass – a gentle crest with pastures on both sides.  The fog was lying heavily on the hills right above the pass, so we had no grand vistas, but it was still a pleasant sight.  In addition to a lift station, there was a dormitory building, where a model glider club was holding a get-together.  Half a dozen people popped in and out of the building with their gliders, in spite of the damp and limited visibility.
A steady breeze, plus the beginning of drizzle convinced us to continue along.  The descent was fairly steep, despite being through pastures and fields.  Drizzle became rain in due course, and we broke out the umbrellas that'd we gotten the day before to good effect.  The rain also seemed to be having a good effect on the local mushrooms, and we passed numerous large red and brown ones.
As the trail got close to Lenk, it got steeper still and we crossed one little road after another.  The town, which had looked quite small from above, grew steadily in size, so that by the time we arrived it looked big enough to accommodate a few thousand people (Wikipedia claims 2,300).  It was only 2:30 PM when we arrived at the central intersection, so we had plenty of time to choose a hotel.  We ended up at the Hotel Sternen – a multistory building just off the main road.  The interior was an interesting combination of traditional chalet and modern chic – dark wooden interior, simple spare furnishings, LED lighting, etc.
My dad wasn't feeling well, so after consulting the hotel, we called a couple of local doctors and one agreed to see him in the evening.  In the mean time we walked down to a little square, had a snack/late lunch of bread and cheese, and did a bit of grocery shopping.  The doctor's office proved to be a small house-like building just outside the main portion of town, and after a short wait, they saw him.  45 minutes later, they were done, having done a couple of tests.  The whole thing was remarkably simple and straightforward – minimal paperwork, no wait to speak of, and the whole thing (despite being out of pocket – no insurance involved) coming to less than the cost of a good dinner for two.  It was an interesting reminder of how things used to be (and could still be) in the medical world.
Before dinner, we did another walk about the town, stopping at the train station, looking at the local sports field and then examining the various hotels and restaurants.  Lenk was certainly less fancy than Adelboden, but I liked it all the more, for it seemed a real functioning town rather than a place that was primarily a resort.  Dinner was in the restaurant of the Hotel Krone Lenk – a large place that offered a variety of pizzas as well as more traditional choices.  It seemed a popular place, particularly for families with kids.  We enjoyed our pizzas.