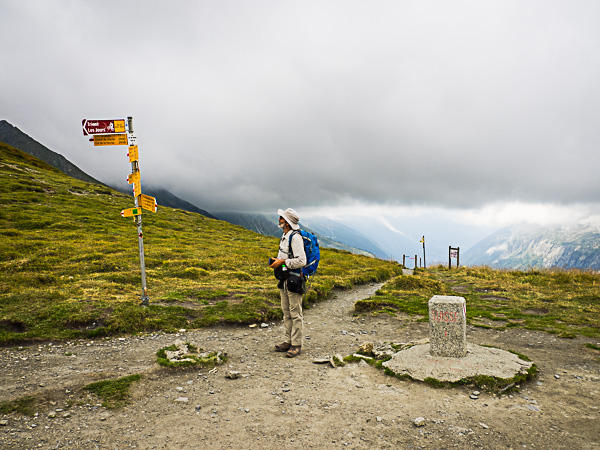 September 5 – Argentiere to Trient – 10.2 miles, +3100/-3000 feet
Despite a restless night (jetlag mainly), by the time we made it down to breakfast, there were plenty of other folks up. Our hosts, a British couple, mentioned there was a world-class bakery just up the street, which we made sure to stop by on our way out. Meanwhile, we enjoyed a true continental breakfast – bread, croissants, cheese, jam, yogurt and coffee/tea. It's a shame American motels have all but ruined the term.
The standard route stays close to the road, so to avoid this we took side paths, staying mostly in the forest. It was a cool morning and while the skies were clear above us, we could see clouds gathering further up in the mountains. Still, it didn't take long to warm up and by the time we passed through a camping area to reach the village of Montroc we were fully in the sun. We passed down narrow streets, between wooden chalets, richly decorated with flowers, criss-crossed a creek, and arrive in Le Tour, a slightly larger village at the foot of a major ski line.
The main climb of the day began from Le Tour. Forests gave way to open hillsides, including ski runs (closed) and roads for mountain bikes. We saw a few hikers and bikers. As we climbed, the views back toward Chamonix steadily expanded, as did the clouds above. Half way up, we paused for a snack beside the Charamillon ski lift station/overlook. The final climb, across pastures full of blueberry bushes, ended at the Col de Balme on the French/Swiss border. At this point, visibility in one direction was limited to a few feet while behind us darkening clouds presaged the incoming storm. We took our photos and ducked into the refuge, a few hundred away from the pass, for a cup of hot tea.
The descent to Trient was steep and soggy. Heavy fog and light drizzle gave way to higher clouds and steady rain. Rapid switchbacks gave way to long traverses and we caught occasional glimpses of the valley below, as well as several large groups of hikers, their packs covered with red or green raincovers. A thin forest of firs brought more switchbacks until at last we emerged in a pasture on the far end of of the village of Trient just as the rain really picked up. We took a few photos and then rushed to our hotel, the Auberge du Mont Blanc.
The hotel, while sizable was quite packed. There are only two hotels in Trient and as the route is both on the Haute Route and the Tour du Mont Blanc, it is understandably popular. Happily we had exchanged our initial reservation in the dorm for a room, so we had a place to relax and dry off in peace. Later we bundled back into our raingear for a stroll around the village, which was small enough not to have a grocery store or bakery, although it did have a nice church. Dinner at the hotel was served family style, and we wound up at a long table, sitting between two German hikers who were about to complete the TMB, and four Danish bicyclists who were out for an extended weekend. We ate salad, soup, fondue and stew. The Danes got a pitcher of beer, while we and the Germans stuck to water.