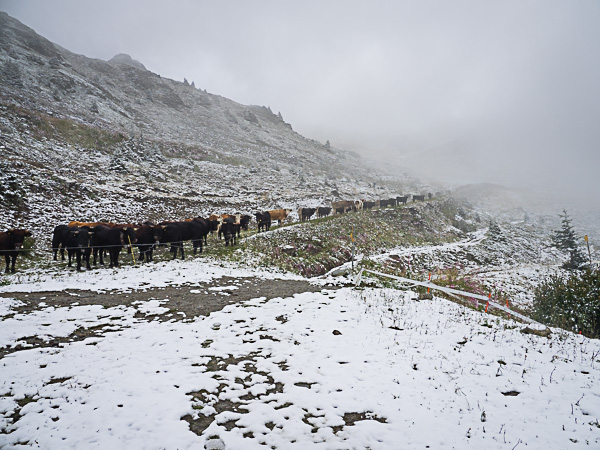 September 8 – Verbier to Cabane du Mont Fort – 5.6 miles, +3200/-100 feet
We awoke the next morning to more rain. In fact, a little higher up on the hill we could see traces of fresh snow and it looked like an excellent day to stay indoors. Fortunately our destination for the night was not far, so we could take time to enjoy breakfast, before cleaning the apartment and packing up. The town was pretty quiet as we began our walk, though we did see a group of people lined up to take the gondola back down into the valley.
The first bit of the route followed a Vita Parcours trail through a forest (an outdoor fitness arrangement with frequent stops for different exercises). After an hour or so, the light rain turned to snow and soon there were shallow deposits of snow along the side of the trail. When we finally reached more open pastures, we crossed a snowy junction where dozens of cows had lined up along the fence, presumably waiting for a way to go down. Unfortunately we couldn't help them. The last half hour climbing toward the Cabane du Mont Fort we were in a winter wonderland with fog limiting visibility and snow covering the trail/road quite well. Fortunately the contours of the route were not hard to discern.
We reached the Cabane du Mont Fort in the early afternoon. Part of the Swiss Alpine Club's mountain refuge system, the cabane provides accommodations and meals most of the year, and unlike some locations had a number of private rooms as well as dormitories. The main dining/sitting area would normally have a panoramic vista of the valley and nearby mountains, but in the fog there was not as much to see. Still, we enjoyed being indoors, dry and having something warm to drink. There were a number of other travelers, many of them American, who were also spending the night. Some chatted, others read and a few played cards.
In the late afternoon, the snow paused for a bit, so I stepped out for some fresh air. It was still quite cold, so I didn't go far, but I did meet a marmot and found a sign indicating that the route was also being used to test the new Audi E-tron battery-powered SUV. I can't imagine Audi got much in terms of press-worthy photographs from the day there, but who knows. Back at the cabane, dinner was salad, spaghetti and ice cream, cooked and served by the enthusiastic, good-humored French-born keeper who also singlehandedly kept the hut clean and in order. The rooms were cool, but the beds were comfortable and we slept very well.