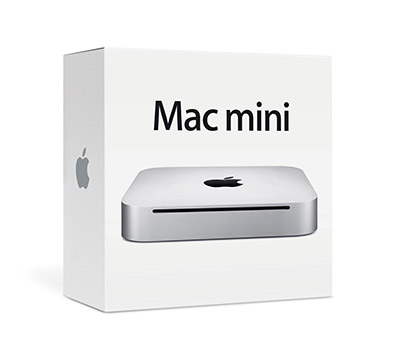 One of the big complaints about Apple's computers is that they're expensive.  In fact, this is often not true – comparing like products with like components one tends to find that Apple prices things reasonably closely to where their competitors do.  What Apple does do however is choose not to compete in certain segments of the market.
In most cases, this makes sense.  They don't really have an entry in the cheap desktop and cheap laptop areas, and it's hard to see how they would do so without offering a product with serious drawbacks.
There is one lack that I find fairly annoying however – a mid-priced expandable desktop machine.
At present, Apple offers 3 types of desktops:
Mac Mini – very compact, relatively inexpensive machine with compromised performance (uses laptop components, no quad core option) and no expandability to speak of (can only fit 1 2.5″ HDD, memory limited to 8GB).
iMac – a decently performing desktop machine welded to an glossy 21-27″ display.  Compromised on the expansion front (1 3.5″ HDD, no way upgrade graphics, can't open up without voiding the warranty).
Mac Pro – a high end workstation, comparable to PC workstations (or would be if they ever updated it) starting at $2500.  Performance and expandability are not an issue, but it's a huge machine, and overkill even for most high-end tasks.
Of course a high-end machine isn't needed for everything, but for processing large numbers of RAW photographs, compiling substantial software projects, running various virtual machines so forth, it does make a big difference.  Web browsing and watching Netflix doesn't require 4 cores and 16GB of RAM, but when you're going through 1000 16MP images in an evening, it really does help a lot.
The name most people give to the missing model between the iMac and Mac Pro is xMac.  The idea is essentially to take the internals of an iMac, stuff them in a mini-tower case with some expansion options, and sell it for $1200-$1500.  It would undoubtedly cost Apple less to produce than the corresponding iMac (no screen, simpler components).
But as we know, Apple hasn't made such a computer yet. The closest one can get these days to an xMac is to build your own machine from standard PC components, and then install a doctored version of MacOS X on it.  The legality of this is debatable, but the process is not longer especially difficult, and with a little care when choosing components, one can get a system where pretty much everything works. For around $600, one can build a very competent system, easily as fast as the most expensive iMac, add a monitor and call it good(1).
---
(1) Example build (prices from NewEgg):
|   | Model | Price | Notes |
| --- | --- | --- | --- |
| Case and PSU | Antec NSK 3280 | $100 | MicroATX midtower case with integrated 380W power supply |
| Motherboard | Gigabyte GA-H77-DS3H | $95 | Intel H77 socket 1155 mATX motherboard |
| Processor | Intel Core i5 3470 | $200 | 4 core 'Ivy Bridge' Intel CPU (3.4GHZ w/3.8GHZ turbo) |
| Hard drive | Western Digital WD20EARX | $110 | 2TB 6.0Gb/s 3.5″ SATA HDD |
| DVD burner | ASUS DRW-24B1ST | $20 | Black SATA 24X DVD Burner |
| Memory | G.SKILL Value 8GB | $35 | 2 x 4GB PC10600 CAS9 DDR3 memory modules |
| Graphics | Gigabyte GV-N430-2GI | $70 | GeForce GT 430 (Fermi) 2GB PCIe 2.0 card |
|   |   |   |   |
| Total |   | $630 |   |