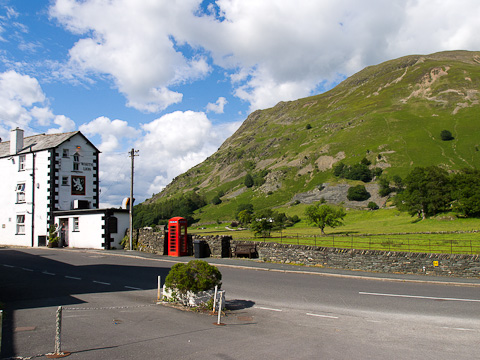 Across England – Walking Wainwright's Coast to Coast route
Preparations – What we did to prepare for the walk
Day 0 – Getting to Kirkby Stephen – In which we all somehow manage to arrive in Kirkby Stephen in time for dinner.
Day 1 – St. Bees to Ennerdale Bridge – In which we set off on our journey only to immediately get lost. Also: an introduction to two English institutions: the pub and the weather, and a lesson in country living.
Day 2 – Ennerdale Bridge to Longthwaite – In which we continue our way across the Lake District and make a worthwhile detour up into the hills in search of adventure. Also: getting an understanding for the youth hostel system.
Day 3 – Longthwaite to Grasmere – In which we are thoroughly drenched en route to Wordsworth's home and celebrate the birthday of our guides in style.
Day 4 – Grasmere to Patterdale – In which a complete absence of rain provides the perfect excuse to visit England's third highest mountain and descend via the aptly named 'Striding Edge.' Also: experiencing a proper evening in the pub.
Day 5 – Patterdale to Shap – In which we ascend Kidsty Pike without being able to see it (or much of anything else) before leaving the hills of the Lake District for good. Also: admiring the handiwork of King Henry VIII and learning a valuable lesson about sheep.
Day 6 – Shap to Kirkby Stephen – In which we enjoy the benefits of a cream tea in the morning and a massive downpour in the evening crossing the middle of England.
Day 7 – Kirkby Stephen to Keld – In which a wet day is made considerably soggier thanks to the presence of numerous bogs and we encounter the happiest farm in England. Also: a brief stop at Nine Standard Riggs.
Day 8 – Keld to Reeth – In which we cross the Pennines and pass numerous relics of Britain's mining past. Also: what to do when the afternoon proves rain-free.
Day 9 – Reeth to Richmond – In which a short leg ends in our first encounter with a real city. Also: trying out England's new national dish at dinner.
Day 10 – Richmond to Oaktree Hill – In which we miss the rainy weather and sweat our way across the lowlands. Also: learning how to fill Sunday afternoon in a really small town.
Day 11 – Oaktree Hill to Clay Bank Top (Chop Gate) – In which we continue to bake even while leaving the lowlands for the moors. Also: the incredible friendliness of folks in the countryside and the case for leaving the urban grind.
Day 12 – Clay Bank Top to Blakey Ridge (Rosedale Abbey) – In which the weather mercifully cools off allowing us to traverse the Yorkshire Moors in relative comfort. Also: the peculiar story of the grouse, the gentry and the moors.
Day 13 – Blakey Ridge to Grosmont – In which we catch numerous glimpses of the ocean descending off the moors and are treated to some of England's finest villages. Also: learning a bit about British railroads.
Day 14 – Grosmont to Robin's Hood Bay (Kirkby Stephen) – In which we conclude our walk with a stretch along the rugged coast and help move England slightly eastward. Also: the best vegetarian dinner in Cumbria and swapping stories with 6 other hikers on the same hike.
Day 14 + 1 – Conclusion – In which we find ourselves in York and discover the difference between being a tourist and being a hiker. Also: the nuisances of luggage.